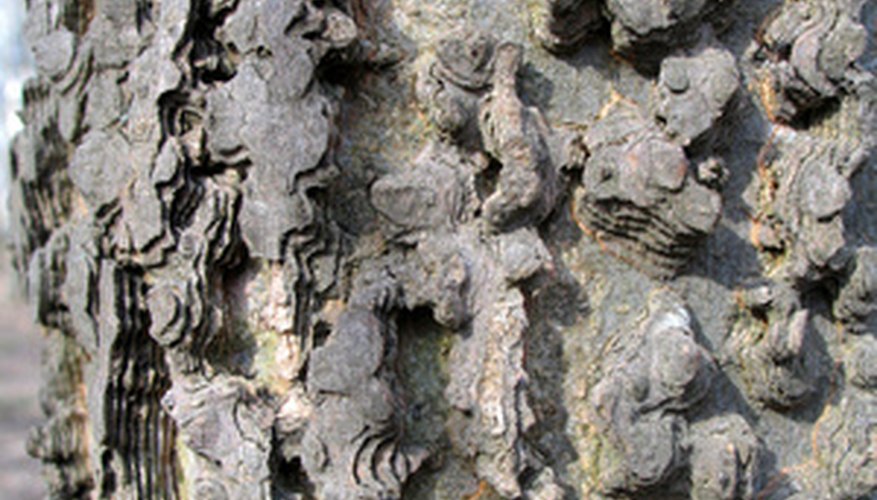 The Ohio buckeye tree produces a nut-like fruit that is dark brown with a lighter brown, round end that resembles a deer's eye. The Ohio buckeye is the official tree of Ohio, and can be found throughout the state, as well as in a large portion of the Midwest. The tree's unique characteristics help observers to identify it.
Measurements
Pick up a stick that is the correct distance from your eye to your fingers if your arm is fully extended in front of your face. Grasp the stick between your thumb and index finger and hold it vertically in front of your face at arm's length.
Back away from the tree until the top of the tree lines up visually with the top of the stick and the bottom of the tree lines up with the bottom of the stick.
Measure the distance from your eye to the base of the tree in feet. This is the same height as the tree. Measure the width of the crown by stretching a measuring tape beneath the tree. A buckeye tree is a medium sized tree that is capable of growing up to 50 or 60 feet.
Measure the diameter of the tree's trunk by using a measuring tape to find the distance around the trunk. Divide this number by Pi, which is 3.142 to come up with the diameter. A buckeye has no more than a 15- to 20-inch diameter trunk.
Measure the diameter of the canopy by laying a measuring tape across the ground below it. Most buckeye canopies are no more than 20 to 35 feet.
Appearance
Walk away from the tree and examine its form from a distance. Buckeye trees have a short, limby trunk and a compact, round canopy.
Pick a leaf from the tree to examine it. Buckeye leaves are compound. Each leaf contains 5 oval leaflets that grow from a central petole like a spread hand.
Examine a leaflet on the leaf. Buckeye leaflets are smooth and light green on the upper size and yellowish green on the underside. Along the veins, each leaflet has a hairy texture.
Explore the canopy for signs of blossoms or fruit. Blossoms and fruit appear at different times of the year from one another. Blossoms are greenish yellow in color and grow in upright columns on a stalk. The buckeye fruit grows inside a prickly husk that is tan and fleshy in texture. There are typically one or two buckeyes in each husk.
Trace a branch to its twiggy tip, which will be upright, stout and coarse in texture. The tip of a branch is usually reddish brown or ashy gray.
Examine the bark covering the tree's trunk. Buckeye tree bark is ashy gray or gray-brown. The bark is smooth and split into oval or circular plates.