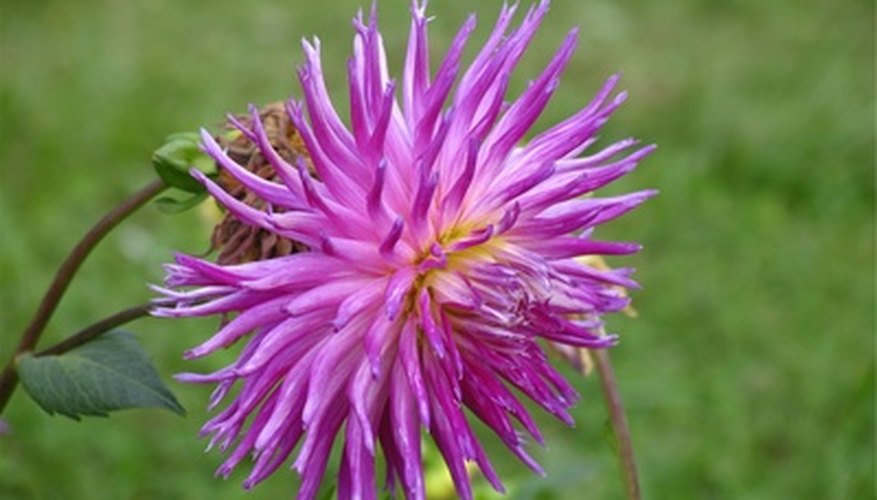 Cactus flowering, or cactus dahlias, are hybrid varieties that belong to the genus Dahlia. Dahlias, in turn, are part of the large Compositae, or daisy, family. First described in 1791, the dahlia is native to Mexico, where it is the national flower, and Central America. Species dahlias generally have simple flowers and an appearance closer to some of their daisy relatives. Hybrid varieties like the cactus dahlia have larger blossoms and many more petals.
Cactus Dahlia Types
The American Dahlia Society recognizes 18 dahlia classifications, according to flower size and configuration. There are actually three types of cactus dahlias: Semi-Cactus, Straight Cactus and Incurved Cactus. The defining trait of cactus dahlias is the quilled or tightly rolled petals. Assignment of one classification or another depends on the degree of curvature of the individual petals, and, in the case of Incurved varieties, whether the petals also curl towards the middle of the flower.
History
Cactus dahlias were first introduced to Europe an the late 19th century, when the lone surviving tuber in a box of dahlia tubers sent from Mexico to the Netherlands, blossomed in a form reminiscent of the flowers of cactus plants. Dutch growers increased stocks of the cactus dahlia and eventually it was introduced into England in 1879 and identified as Dahlia Juarezii. This species name, which honored the president of Mexico, is no longer in use. Cactus dahlias were introduced by American nurseries in the 1880s. In 1895, England's Royal Horticultural Society held its first trial of cactus dahlias.
Varieties
There are scores of cactus dahlia varieties on the market in all of the 15 colors or color combinations recognized by the American Dahlia Society.The color classification system includes separate categories for "variegated" plants with splashed or striped blooms, and bi-colors, with two distinct colors appearing on the flowers. In addition to modern hybrid cactus dahlias, some old and antique varieties are still available through catalog vendors.
Care
Dahlias, including cactus types, sprout from tubers that should be planted either in a sunny spot in the garden or in a pot of free-draining soil mix Timing is important. Wait to plant the tubers until the soil is warm and all danger of frost is past. Plant tubers with "eyes" up, as new growth emerges from these nodules. Cover with 2 to 3 inches of soil. Plant a tall stake at the same time as the dahlia tuber, as many dahlia varieties needs staking and doing so early prevents root disturbance later. Water only when the soil appears dry to avoid rot caused by excessive moisture. When the plants bloom, deadhead frequently to encourage reblooming. Dahlias are not hardy in cold winter areas, but tubers can be lifted after the first frost in the fall, stored in a cool, dry area and replanted the following spring.
Cactus Enthusiasts
Gardeners with a passion for cactus dahlias can connect with like-minded individuals by joining the American Dahlia Society, which sponsors shows, auctions and plants sales as well as interaction among dahlia enthusiasts. Many states have local chapters affiliated with the ADS.