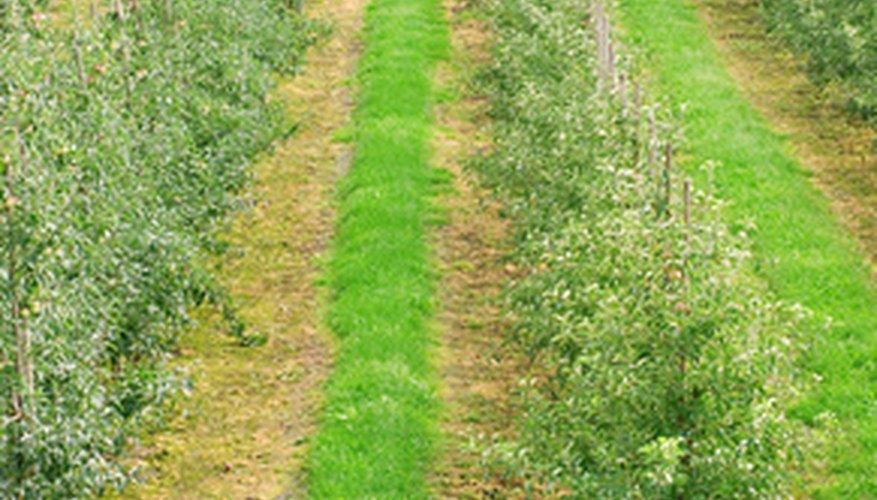 Apple orchard image by Bartlomiej Nowak from <a href='http://www.fotolia.com'>Fotolia.com</a>
While Casoron herbicide kills broadleaf and grassy plants, it leaves well-established deep-rooted plants intact. The active chemical ingredient in Casoron is dichlobenil. The manufacturer, Chemtura Canada Co., produces Casoron in the shape of granules for ease of application. The chemical becomes volatile in high temperatures and loses much of its effectiveness. Chemtura recommends application during temperatures of less than 59 degrees F. You can apply Casoron by hand, with small spreading equipment, or with tractor-mounted spreaders.
Allow any wanted plants to grow to maturity with established roots. Allow any transplanted crops to grow for four weeks before applying Casoron.
Clear any weeds by hand or with cultivating equipment in early spring or late fall.
Spread granules evenly over the soil. According to Chemtura, apply 1.5 to 2.5 ounces of Casoron per 40 square feet. The Arnold Arboretum recommends applying 1 ounce per 20 square feet.
Irrigate with 1/2 to 1 inch of water to allow the granules to dissolve. Alternatively, cover the granules with wet mulch.
Repeat each year as needed.
Things You Will Need
Casoron

Chemical-resistant gloves

Long-sleeved shirt

Long pants

Closed-toed shoes

Herbicide spreader (optional)

Water

Wet mulch (optional)
Tip
Casoron is not for light sandy soils as the chemical will seep down too far, harming established plants and failing to kill soil-surface weeds. Chemtura says to apply the higher recommended rate in the first year and the smaller amount each succeeding year for maintenance. Alternatively, you may repeat the higher recommended rate of application every other year if needed.
Warning
Always wear protective gear and do not ingest the material. Wash hands thoroughly following application. Do not touch your face while applying or allow the chemical to get on your skin. Do not over-apply.
References