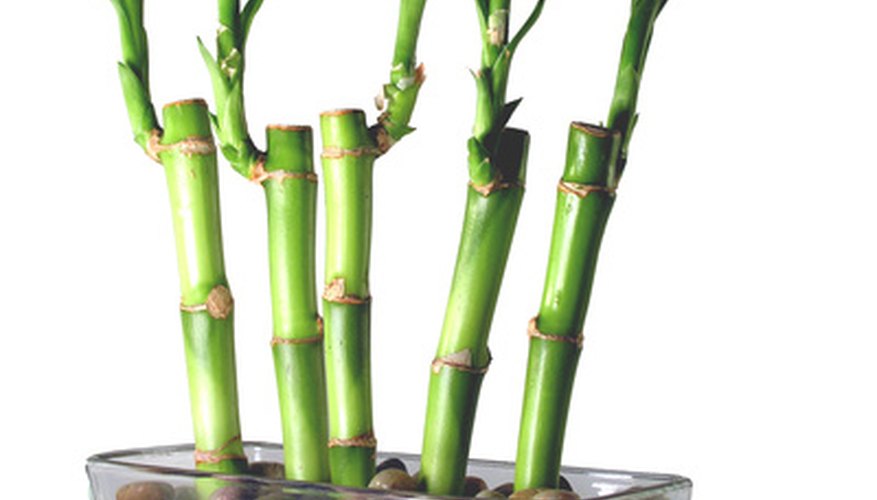 lucky bamboo close up image by Trevor Goodwin from <a href='http://www.fotolia.com'>Fotolia.com</a>
Lucky bamboo is a popular plant for indoor growing. It is not a real bamboo plant, but is actually a slightly toxic water plant that can be grown in simple pebbles and water. It produces several stalks and leafy growth. Lucky bamboo has several different spiritual meanings, most originating in China and Chinese customs.
Stalks
The number of stalks that lucky bamboo grows is very important. Three stalks are common and lucky bamboo with this many stalks are given as gifts, the three shoots signifying happiness, wealth and longevity. Five and six stalks attract wealth. Seven stalks bring good health. Eight growing stalks encourage continued prosperity. Ten signifies completion or perfection, while twenty one stalks are considered extremely lucky and are used to grant a blessing on a household.
Business
In the career world, lucky bamboo signifies good business deals and advancement, especially advancement to higher ranks within a company. According to Feng Shui With Joy, the plant is said to bring prosperity to entrepreneurs who grow it while attempting new business ventures.
Personal
Feng Shui With Joy reports that from a personal perspective, the lucky bamboo plants is thought to help give a harmonious long life, strengthening relationships and even rekindling romance. It is a symbol of good virtues and graciousness, and represents a number of traditionally important attributes related to politeness.
Feng Shui
Feng Shui is an art of arranged buildings and objects so that they correctly use space to strengthen flows of energy and remove negative emotions. Lucky bamboo is seen as a source of energy in Feng Shui, useful for concentrating the energy of a room in a particular spot or lightening up a dark place. According to LuckyBamboo.org, growers can also place lucky bamboo near sick people to help them heal more quickly.
Thailand
In Thailand the lucky bamboo is known by several names, including Guan Im, Quan Yin and Kwan Yin, depending on spelling and precise pronunciation. These are all derivations of the name of a Chinese goddess who is a symbol for mercy and compassion.