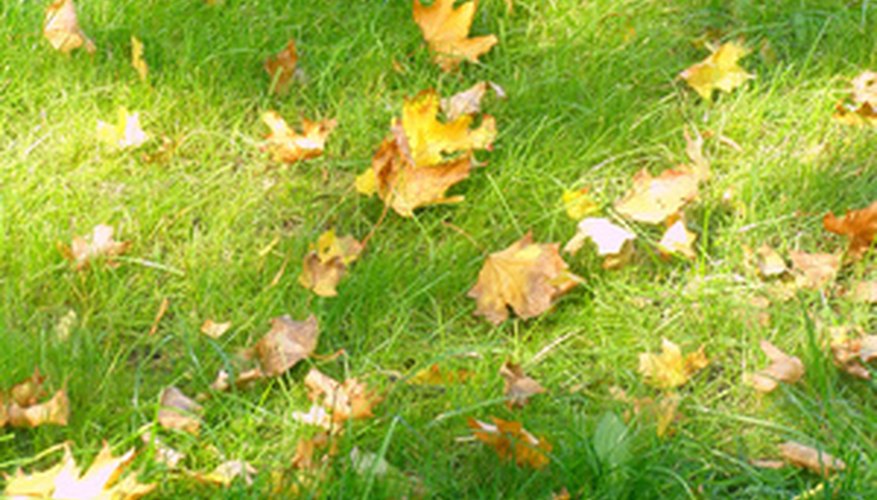 autumn lawn image by Sergej Razvodovskij from <a href='http://www.fotolia.com'>Fotolia.com</a>
Leveling out low areas in your lawn not only makes your landscape look better, but it also improves the drainage in those areas. Low-lying areas of a lawn can run into problems, such as dead patches, when moisture builds up. For the best results, level your lawn during the spring and summer, when your lawn's growth rate is at its highest. This will ensure your grass recovers as quickly as possible.
Small Dips in the Lawn
Mix equal parts topsoil and high-quality sand in a large bucket.
Spread the soil mixture over the shallow dips in the lawn. Evenly spread a 1/2-inch layer of the soil mixture over the low area. Do not attempt to completely level the dip at this time.
Wait one month for the grass to emerge through the 1/2-inch layer of soil.
Reapply another 1/2-inch layer of the soil mixture. Continue to build up the area, 1/2 inch at a time, until the dip is level with the surrounding lawn.
Large Dips in the Lawn
Mark off the lower areas by driving wooden stakes into the ground at the corners of the recessed areas and running string to each stake.
Cut the sod with a sod cutter or sharp shovel, following the string as a guide. Carefully peel the piece of sod from the ground, taking care not to rip the sod or damage the roots. Lay the sod aside, roots down.
Place a mixture of equal parts topsoil and sand into the depression until it is level with the surrounding lawn. Tamp the soil down lightly with a shovel, but don't compress the soil so much that the grass roots have difficulty penetrating the new soil.
Lay the sod back down on top of the new soil. Butt all the edges of the sod and the lawn against one another tightly. This will keep air and sun from penetrating and drying out the roots below. Use a lawn roller to compress the grass roots into the new soil.
Fertilize the raised areas the next day. Apply 1/2 lb. of fertilizer per 1,000 square feet and water the areas thoroughly.
Things You Will Need
Top soil

Sand

Bucket

Shovel

Wooden stakes

String

Sod cutter or shovel

Lawn roller

Fertilizer
Tip
Keep children and pets off the leveled areas until the grass has grown through the soil or the sod has rooted into the new soil and is thriving.
Warning
Use a good-quality topsoil. A poor topsoil may contain weed seeds that will infest your lawn.