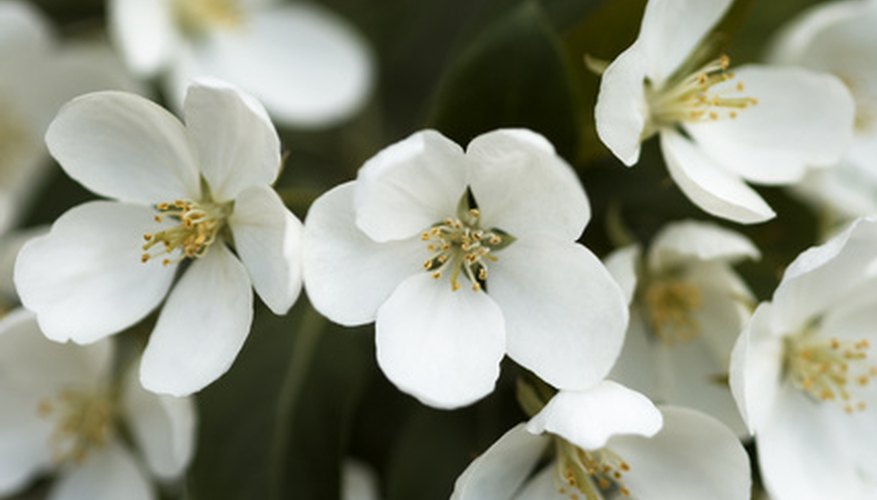 Native to Japan, the small flowering tree known as the Sargent crab apple (Malus sargentii) bears pink to red buds that open to white flowers in mid-spring. These fragrant flowers fill the branches as if they were leaves and develop into small dark red apples (1/2-inch) that are showy in early autumn. If lowest branches are not pruned away, a Sargent crab apple resembles a large shrub, since it matures 6 to 10 feet tall and 8 to 15 feet wide. Grow it in USDA winter hardiness zones 4 through 8.
Firebird®
This cultivated variety (cultivar) of Sargent crab apple is officially known as \"Select A\" but marketed with trademark name Firebird®. This plant was first selected in Wisconsin in the late 1990s for its more compact habit and resistance to the common apple scab disease. It possesses U.S. plant patent number 12621. At maturity, Firebird® Sargent crab apple reaches only 6 to 8 feet tall and width of 8 to 10 feet. It also tends to hold onto its fruits well into midwinter, adding to the ornamental value.
Rosea
Growing 9 to 12 feet tall and 10 to 12 feet wide, slightly larger than the wild species, the cultivar \"Rosea\" is simply called the rose Sargent crab apple tree. The only differentiating feature of this plant from others is that the red flower buds open to slightly larger pale pink flowers rather than the usual white petals.
Tina
The smallest selection of Sargent crab apple, \"Tina\" is a diminutive shrub that is usually grafted onto standard rootstock to more resemble a tree. Growing only 5 to 6 feet tall and 8 to 10 feet wide, the graft's location on the rootstock plant's trunk affects how substantial a mature specimen will become. The pure white flowers develop from red buds, making this cultivar a pretty choice for large patio containers, small courtyards or in home foundation beds.