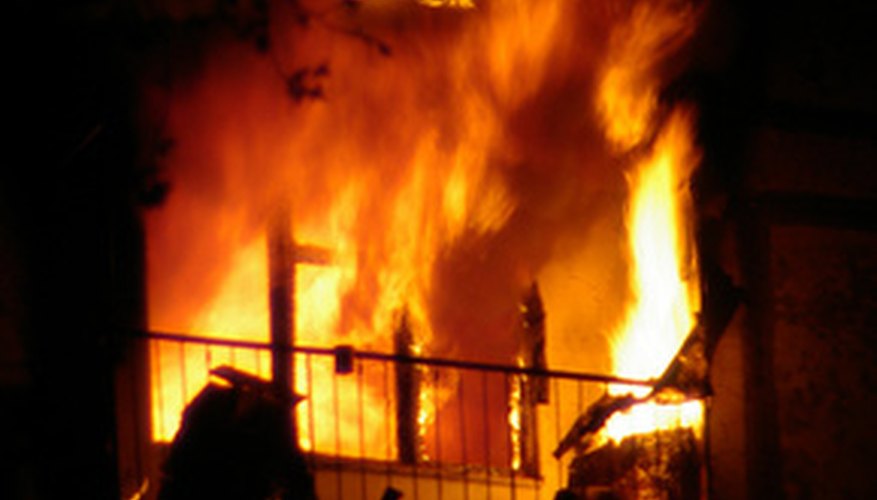 BRK produces a range of smoke alarms, including battery operated models and models that are hard-wired into the electricity supply with a battery backup. Smoke alarms can save lives, and it is important to ensure that any you have installed are working correctly. If in doubt, you should consult a qualified professional, but some problems may have simple solutions and it may be worth troubleshooting the alarm yourself.
Alarm Sounds When it Shouldn't
Vacuum the smoke alarm with a soft brush attachment. Dust or insects can accumulate under the cover, and this can trigger the alarm.
Check for signs of a temporary power failure. If the power supply was briefly interrupted, the electronic displays on devices, such as clocks and DVD players, may be blinking and need to be reset. Power interruptions are common in areas where utility companies switch grids in the early hours of the morning, according to BRK.
Ensure the alarm is located in a suitable place. Ideally, smoke alarms should be at least 20 feet from cookers and furnaces, 10 feet from high humidity areas such as showers, and three feet from heat and air conditioning vents. If it is possible to do so, the alarm may have to be re-sited.
Alarm Chirps
Change the batteries in the alarm. Even if the alarm is hard-wired into the electricity supply, it should have a battery back-up power supply.
Wait 15 minutes to ensure the Silence button has not been pressed by mistake. When a Silence button is pressed, the alarm will chirp once a minute for 15 minutes.
Ensure the battery pull-tab has been removed from the alarm.
Check that the battery drawer is fully closed.
Test Button Doesn't Sound Alarm
Wait 15 minutes in case the Silence button has been pressed. Press the Test button again. Some models can also be tested while in silence mode.
Hold the Test button for at least five seconds.
If the alarm doesn't sound, change the batteries.
Make sure the battery pull-tab has been removed from the alarm.
Check that the battery drawer is fully closed.
Make sure a hard-wired alarm has AC power. Hard-wired alarms will have a power indicator light that shines continuously when they are receiving power.
Things You Will Need
Vacuum

Soft brush vacuum attachment

Batteries
Tip
Change batteries and test any alarms regularly.
Warning
Do not attempt to access the electrical power supply for hard-wired alarms if you are unqualified to do so.