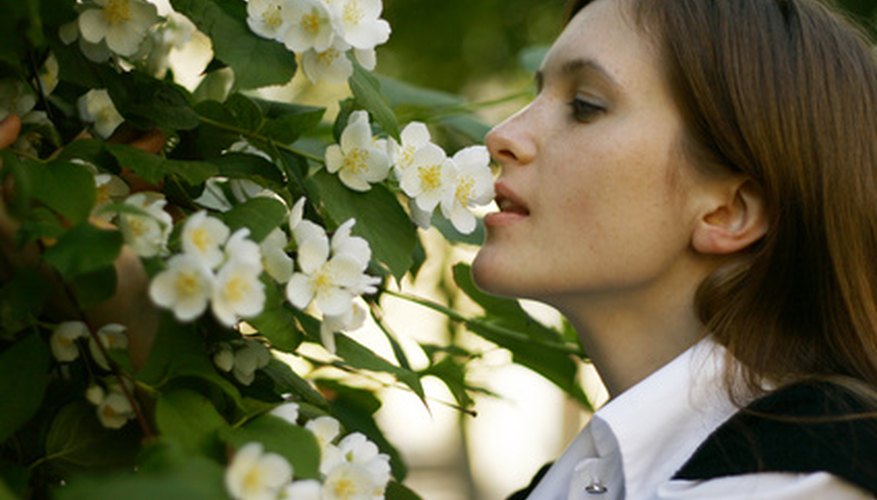 Jasmine (Jasminum), a member of the olive family, is a flowering shrub loved by gardeners in warm climates for its prolific, fragrant blooms. The plant is hardy from zones 7 to 10, although winter jasmine(J. nudiflorum) is hardy to zone 6. The plant has a twining habit, although it is not self-supporting and must be secured to a trellis or stake. In warm climates, it grows to length of 30 feet. In temperate zones, grow jasmine as an annual or pot it up and bring it inside before the first frost. (reference 1, pg. 474)
Select a jasmine variety, based on your climate and site location. Common jasmine (Jasminum officinale) is very fragrant, hardy to zone 7 and grows to 30 feet. This variety is a good choice if you live in a warm area where the jasmine can grow outside year-round. In temperate climates, try winter jasmine (J. nudiflorum) or pink jasmine (J. polyanthum). These varieties are smaller and grow well as house plants.
Buy jasmine at reputable nurseries, greenhouses or online gardening stores. Select plants with healthy, strong stems and green leaves, preferably with a few flowers so you know exactly what you're getting.
Plant jasmine outside after the last expected frost in moist, well-drained, loamy soil. Plant jasmine inside in a pot at least 12 inches in diameter. Use sterile potting mix and water every two or three days to keep the soil evenly moist. Place the plant in a sunny window.