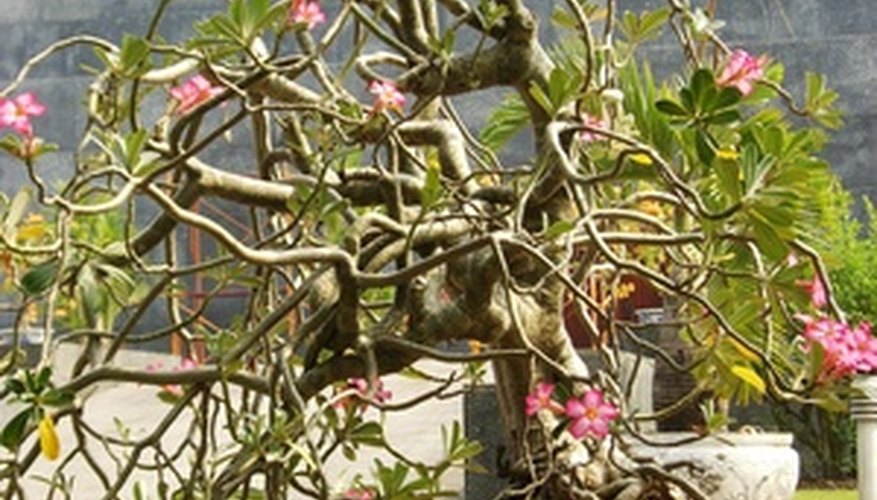 Growing, training and caring for bonsai is a delicate process. The cultivation of tiny trees and shrubs has been done in Asia for thousands of years. The Yoshiaki company makes bonsai tools that are professional-grade instruments. Bonsai West calls their quality \"exceptional in the weight, comfort and cutting edge.\" They are durable and well made, making it easy for even a beginner to do a good job on bonsai.
Scissors and Shears
Scissors and shears are used to trim leaves, branches and buds. Bonsai scissors generally have small finger holes and shorter blades, which gives you excellent cutting control. Yoshiaki makes 6-, 7 1/4- and 8-inch shears with single and double carbon blades. Their handmade scissors are available in 5-, 5 1/2- and 6 1/2-inch sizes, and they are available in left-handed models. There are both hybrid and bypass Yoshiaki pruners.
Wire Cutters
When you train bonsai, you will use wire to position the branches and the trunk. According to Bonsai Magazine, regular wire cutters are fine for cutting the wire. But for removing the wire from the plant requires a specialized short blade. Yoshiaki wire cutters come in 5 3/4-, 6 1/4-, 7 1/4- and 8-inch sizes. There are both stainless steel and white handles and shank models available.
Pruners
Pruning bonsai requires very sharp, precise cuts. Any damage to a bonsai is magnified because of its tiny parts. There are hybrid, bypass and blade pruners made by Yoshiaki. The hybrid pruner is 7 1/4 inches; the bypass comes in 7- and 8-inch models. The Nishigaki pro is 6 inches.
Pliers
Yoshiaki makes a 7 1/4-inch stainless wire plier. Bonsai pliers must be light, long and with a gripping mouth, according to Bonsai-tools.com. Pliers are used to hold wire, grip limbs and tear bonsai wood to create bonsai tree \"jin.\"
Toolkits
Quality bonsai tools can be very expensive. Buying them in a kit is often a better deal than buying tools individually. Yoshiaki makes three toolkits. The K1 includes one shear, two cutters, trowel, three-finger rake and a case. The K5 includes shear, two cutters, root hook, trowel and case. The K6 contains shear, two cutters, trowel and case.