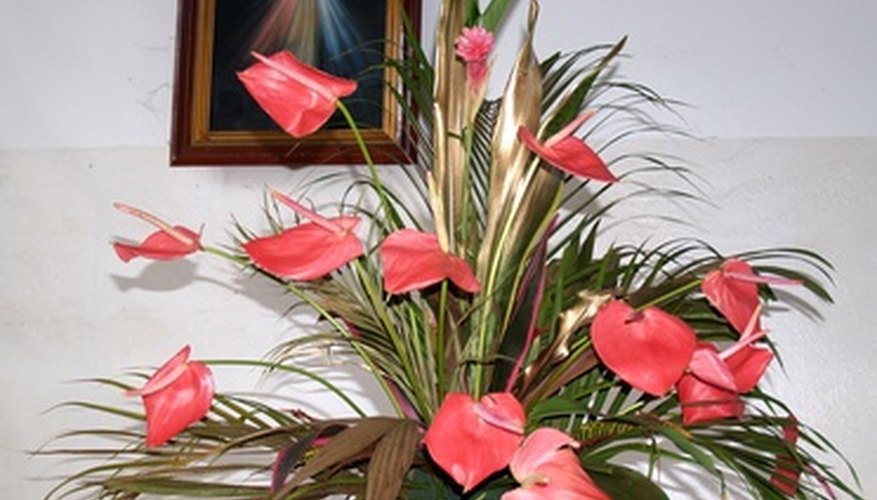 At church, flowers are used for weddings, special occasions and to simply celebrate the beauty of God's creation each Sunday. Cut-flowers from your own garden are lovely. Use flowers to accent the auditorium for an uplifting seasonal background. Flowers add punch to an otherwise neutral setting. Every church building is different and has its own style. Arrange church flowers for your own congregation's taste and enjoyment.
How to Arrange Your Flowers in the Church
Check with your church leadership for rules or traditions that may not allow flowers to be placed in certain areas. If you are a guest renting the space for a wedding, funeral or other event, be sure you read the contract well. Many churches have stipulations on what you can place in the church.
Plan to fill a vase, container or basket that is at least six to eight inches in diameter. The space you are working with is larger than a living room, so your flower arrangement will be large, as well. A single rose might look nice on a piano or organ, but will be dwarfed in a large sanctuary/auditorium.
Arrange your flowers for the season or occasion. Keep the area balanced and symmetrical when placing the flowers around the room. A single vase can be placed on a piano or on the center communion or alter table. Two vases can be placed at opposite sides of the room. A third vase is placed in the center. After using five containers or more, the flowers arrangements are scattered throughout the stage area. Step to the back of the room to examine the overall affect.
How to Arrange Your Flowers in a Container
Arrange the individual containers of flowers with floral foam in the bottom of your container. This green foam holds water and anchors the arrangement. It is available at craft centers, and should be cut to fit your need. Floral tape is handy when a stem bends or breaks. It is wrapped around the broken piece and will secure your stem.
Insert the main large flowers of your arrangement, first. An odd number of one, three or five flowers will look best. After five, any number of flowers is acceptable. Calla lilies, chrysanthemums, rose blossoms are all choices for large flowers. If you choose smaller flowers, arrange many of them to fill the space.
Fill in the arrangement with greenery leaves, babies breath and smaller flowers the size of daises or rose buds. Trailing vines make the piece seem larger by spilling out of the container and filling the surrounding area. The arrangement is not limited to a spray of flowers in a vase. Gladiolas and irises are tall flowers which add height. Ting ting, a man-made embellishment, and other silk flower parts are purchased at craft stores. They add punch to the arrangement and make the piece seem larger.