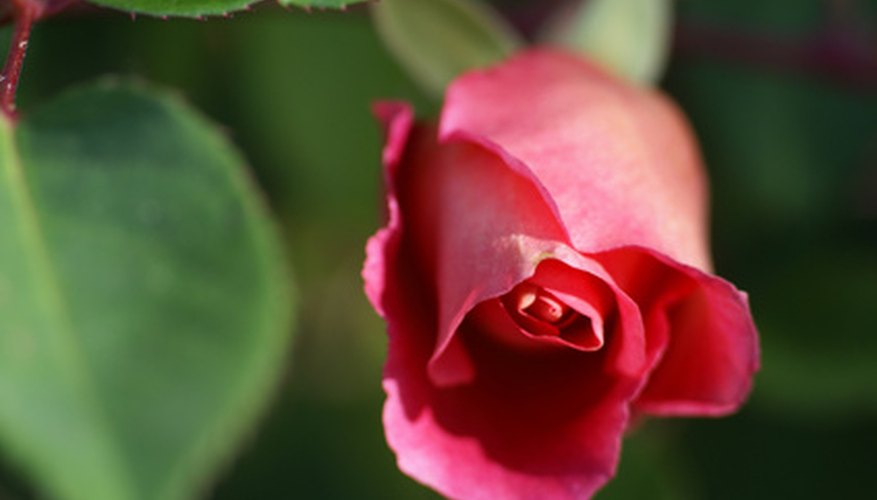 Very few flowers bloom in cold winter areas. Frost puts an end to their flowering until the spring. In warm winter areas such as the Southern part of the United States, Florida, the low desert of the Southwest and Southern California, the warmer weather encourages blooming all winter long and well into spring.
Roses
Roses are one of the most popular garden and cut flowers. Tea roses, named originally because their fragrance was reminiscent of tea, have stems up to 24 inches long. The bushes are evergreen in frost-free areas. They have seasonal bursts of blooms but will bloom all winter long. Colors include everything except blue. Plants range from miniature roses from 24 inches high to climbing roses 24 feet high. Some varieties are highly fragrant.
Carnations
Carnations are perennials. The bushes have short silvery narrow leaves and grow to 36 inches high. Stems may be up to 28 inches long. The flowers resemble powder puffs 3 inches across. The petals are packed tightly with slightly ruffled edges. Carnations grown in the home garden have a spicy scent. Those grown for commercial sales have lost most of their scent. All colors except blue are available. Some varieties are streaked or edged with a contrasting color.
Delphiniums
Delphinium plants grow to 6 feet tall and must be staked. They are prone to be flattened by rainfall. The small flowers are arranged on spikes. Colors include blue and white. Delphiniums are perennials that prefer cool temperatures so they don't do well in areas with hot and humid summers.
Snapdragons
On snapdragons, many small flowers are packed on spikes up to 24 inches long. The scent is sweet but faint. The flower got its name because if you gently squeeze the top and bottom of the blossom it looks like a Chinese dragon opening and closing its mouth. Snapdragons are susceptible to rust, which shows up as rust-colored dots on the undersides of the leaves. The infected plant will eventually die and should be removed as soon as the rust is detected so other plants aren't infected.
Oriental Poppies
Oriental poppies look like the petals are made out of tissue paper. They almost glow when the sun shines through them. The flowers are 4 inches across with black centers. The seed pods are often dried for dried flower arrangements. The plants are bushy with flowers held on stems up to 30 inches long. Colors include white, red, pink and orange. The flowers have little fragrance.