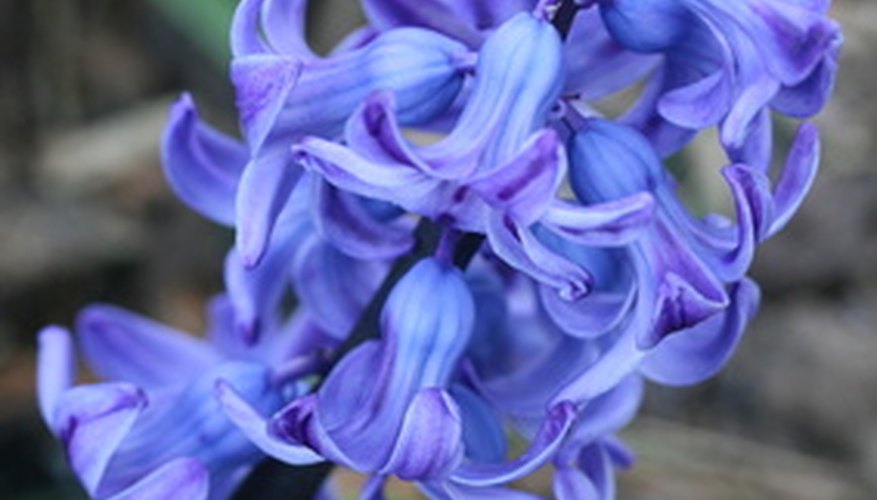 Water hyacinths (Eichhoria crassipes) have clusters of soft violet and light blue flowers that are very pretty and add aesthetic beauty to a water source such as a small backyard pond. Most people who pull out and dry water hyacinths plan to cut them up for mulch or compost them and do this to control their growth. On the other hand, some people dry the plants for preservation purposes. Before doing either one, it is beneficial to clean the water hyacinths first, not only to make them look nicer if desired, but to get rid of excess salts and other harmful elements for the garden or yard.
Pull out the water hyacinth from the pond or other water source where the water hyacinths are growing. You can also cut the flowers off with pruning shears, but if you want to control the growth and spread of the water hyacinth, you must pull them out. A pitchfork may help pull the plants out of the water with their roots.
Separate them gently by pulling them apart and lay the plants out, preferably on a driveway or sidewalk. Cut off any dead leaves or stems, if desired.
Wash the stems and leaves off with a hose to get any algae, dirt, excess salt, debris or another residue off. Avoid spraying the blooms if you want to dry them for floral or preservation purposes.
Wipe down the stem and leaves with a clean rag to get any remaining residue off. The flowers grow above water and should look crisp, clean and fresh. They are now clean and ready to dry.