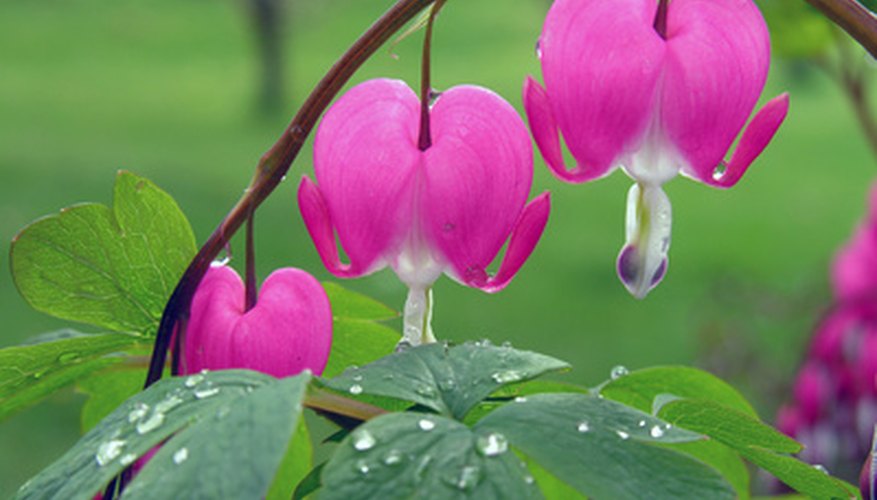 While many plants can be eaten with no ill effect, some seemingly harmless plants can be highly toxic. Although most toxic plants are commonly grown in the home landscape with no problems, you should be aware of any problems that can occur if the plants are ingested. If you think that somebody may have ingested a poisonous plant, call your local poison control center or the American Association of Poison Control Centers at 1-800-222-1222.
Lily of the Valley
Lily of the valley (Convallaria) is a small perennial, growing no more than 10 inches high at maturity. During the spring, dainty white, bell-shaped blooms dangle from the dark green foliage. Although the plant is lovely and the blooms smell sweet, all parts of the plant are toxic and can cause irregular heartbeat, mental confusion and digestive upset.
Foxglove
Foxglove (Digitalis), a popular garden plant, can be found growing wild in the Pacific Northwest. Although foxglove requires two years to reach its full height, the plant can be as tall as 3 to 6 feet at maturity, with spikes of thimble-shaped blooms. The entire plant is toxic and can affect the cardiovascular and gastrointestinal systems with possible symptoms that include stomach pain, diarrhea, vomiting, headache, slow pulse, tremors and convulsions.
Bleeding Heart
With its heart-shaped flowers and graceful, arching stems, bleeding heart is a woodland plant that is often planted in cool, shady gardens. Although the plant is delicate and lovely, all parts of the bleeding heart plant can be toxic and can result in trembling, vomiting, labored breathing and convulsions.
Nicotiana
Nicotiana (Nicotiana spp.), also known as jasmine flowering tobacco, is prized for its colorful blooms that fill the night air with their sweet aroma. Nicotiana is a perennial in warm climates, but is most commonly grown as an annual. All parts of the plant are toxic if ingested, and can cause slow pulse, diarrhea, dizziness, vomiting and respiratory failure.
Rhododendron
Although rhododendron is a popular plant grown in most temperate climates of the U.S., all parts of the rhododendron plant are highly toxic and can potentially be fatal if eaten. Symptoms include watering eyes, abdominal pain, depression, loss of energy, vomiting, diarrhea, weakness, paralysis and coma.