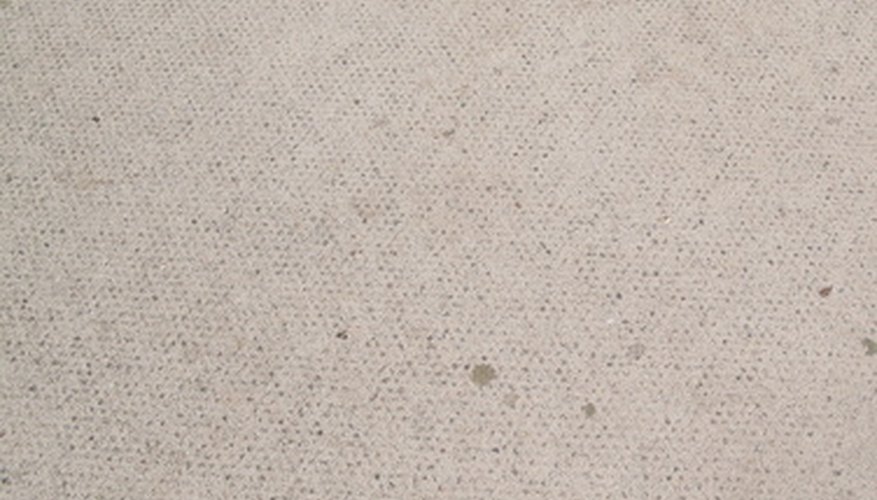 Laminate countertops, once thought of as the only practical choice for busy family kitchens, are now going out of style. Many finishes that were once out of reach for middle-class homeowners are now much more accessible, and laminate is becoming synonymous with economy builds. If you want to update your old laminate countertops without the headache of entirely replacing them, consider covering them with concrete. Concrete can be a sleek, sophisticated finish, and it is growing rapidly in popularity as an indoor material.
Purchase enough concrete from your local home supply store to coat your existing countertop.
Change into old clothes. Wear work gloves, plastic goggles, and a paper mask over your nose and mouth.
Use large plastic tarps to protect all the surfaces around your existing countertops. Hang tarps with masking or painter's tape to cover vertical surfaces and backsplashes.
Trim the wire mesh concrete liner using wire snips. Make pieces the correct size for the countertop and each edge. Leave a 1-inch margin uncovered all the way around each piece so the mesh does not stick out if the edges become chipped.
Attach the wire mesh pieces to the countertop using screws and a drill. Place a screw approximately every 6 inches of each piece, drilling through the mesh and into the laminate countertop.
Consult the packaging of your concrete to find out how much water to mix in, since this varies by brand and amount. Combine the concrete and water in a bucket and mix it thoroughly with a shovel until the texture is similar to peanut butter.
Trowel a thin layer of concrete all over the existing countertop, including the edges. Make this layer 3/8 inch thick. Use the flat side of the trowel to smooth and level the concrete.
Spray any uneven or rough areas of concrete lightly with water from a spray bottle. Drag the bristles of a new, dry paintbrush against these areas until they are even and smooth. Clean the paintbrush immediately; you will use it again.
Allow the concrete to dry for one hour.
Trowel on a second later of concrete, thick enough to bring the counter to your desired depth. This two-layer application process is required to make the countertop strong all the way through. Level and smooth this application of concrete using the spray bottle and paintbrush method.
Smooth the surface of the final application of concrete using a rubber float. Allow the finished concrete to cure for two to three hours once you are satisfied with its appearance.
Apply one or two coats of masonry sealant over the entire countertop. Allow the countertop to dry overnight before using it.
Things You Will Need
Concrete

Protective clothing

Plastic tarps

Masking or painter's tape

Wire mesh concrete liner

Wire snips

2-inch screws

Drill with screw bit

Bucket

Shovel

Metal trowel

Spray bottle full of water

New, dry paintbrush

Rubber float

Masonry sealant