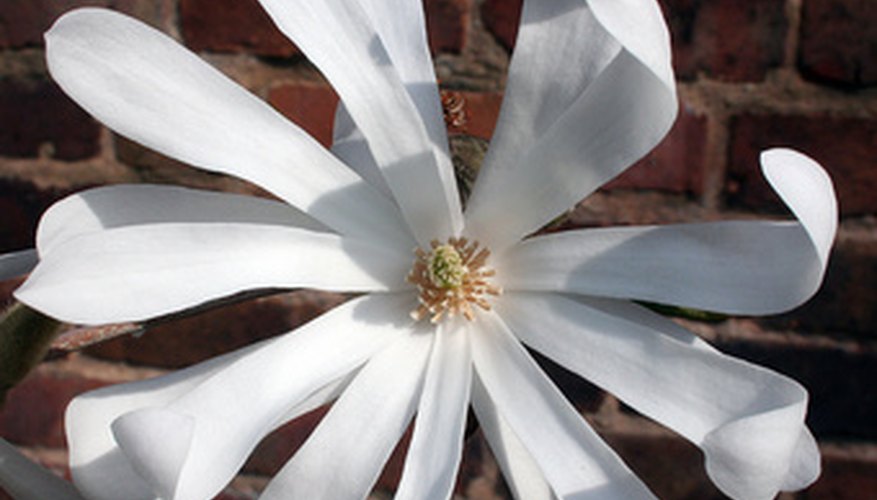 As weather warms and frosts become increasingly rare, many bulbs, perennials, shrubs and trees break their dormancy and provide a welcome display of colorful flowers. Early spring varies by region depending on elevation and severity of winter, among other factors, but in general, certain plants always will flower well before the majority of trees display their leaves. Combine different plant types in the garden setting to create a pleasant composition of early spring-blooming flora.
Bulbs
Always planted during the previous autumn, many spring-flowering bulbs pop up their leaves and/or flower buds in the waning days of late winter. In North America, these bulbs bloom anytime from February to early April, depending on local climate. Examples include early-season daffodils (Narcissus), crocus, glory-of-the-snow (Chionodoxa), starry bluebells (Scilla), miniature Dutch iris (Iris reticulata), windflower (Anemone blanda), hyacinth (Hyacinthus orientalis) and early-season tulips like "single early" and "Triumph" types.
Herbaceous Flowers
Cool-season annuals, biennials and perennials that grow with non-woody stems also bloom in early spring. Lenten roses (Helleborus) will bloom from late winter into mid-spring. Carpets of white occur on candytuft (Iberis sempervirens), and lavender and pink to blue-violet flowers appear on moss phlox (Phlox subulata). Virginia bluebells (Mertensia virginiana) and wild violets (Viola) also bloom in sunny nooks in woodlands before the tree leaves emerge weeks later.
Shrubs
Among the most vibrant early spring-blooming shrubs is the forsythia, with its canary yellow flowers. Pussy willows (Salix) bear their fuzzy catkin flowers on their naked branches, as do witchhazels (Hamamelis x intermedia). Oregon grapes (Mahonia aquifolium) bear fragrant yellow flowers anytime from late winter to mid-spring. Additional early spring-flowering shrubs include viburnums, Cornelian cherries (Cornus mas) and Korean rhododendron (Rhododendron mucronulatum).
Trees
Redbuds (Cercis canadensis and Cercis chinensis) fill their bare branches with violet-pink flowers early in spring, bringing the first hints of color to woodlands stark with dark tree trunks and bare branches. Okame cherry (Prunus 'Okame'), peach (Prunus persica), Manchurian apricot (Prunus armeniaca var. mandshurica), Higan cherry (Prunus subhirtella) and Yoshino cherry (Prunus x yedoensis) are popular for their massive displays of flowers at the same time daffodils bloom. Saucer and star magnolias (Magnolia soulangeana and Magnolia stellata, respectively) make handsome early spring-blooming trees as well.