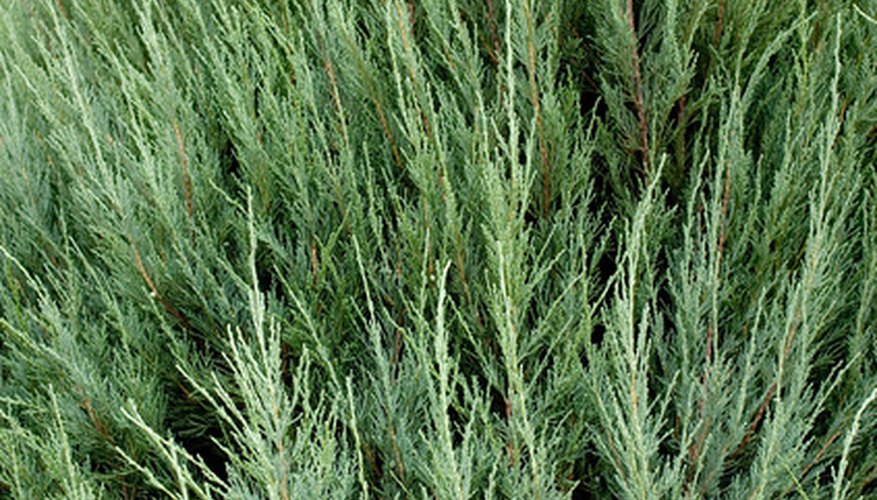 Thuja background image by Bartlomiej Nowak from Fotolia.com
Thuja occidentalis is a member of the arborvitae genus, a group of evergreens that are known for being easy to care for and maintain. Thuja occidentalis grows quickly, however, and will reach 12 feet in height when mature. It is best to prune Thuja twice annually to keep it down to a manageable size and desirable shape. If at all possible, don't miss any appointments. It may take several seasons for Thuja to recover from the hard pruning necessary to cut it back down to size.
Pinch 2 inches off the tips of the newly grown (they will be a lighter green than the older foliage) stems of a young Thuja during its first two seasons of growth in your yard. This will encourage new stems to branch out and fill out the interior.
Remove any branches of your Thuja that sport brown needles. These branches are dead and must be cut back to their point of origin. Use a pair of sharp lopping pruning shears to cut the branch back to its collar, the swollen point at the base of the branch.
Shear your Thuja hedge to create a desirable shape. Use hedge clippers to trim away the overgrown new growth (a lighter green than the older growth) on the top and sides of the hedge until it resumes the shape you want. When pruning, keep the top of the Thuja slightly narrower than the bottom to prevent the upper branches from blocking the lower branches' access to sunlight.
Things You Will Need
Pruning shears

Lopping shears

Hedge clippers
Tips
Prune your Thuja in early summer after it is done producing new growth and at the end of the summer in mid- to late August.

It is best to regularly prune a Thuja to keep it to a desirable size. But if your Thuja has become overgrown, you may need to shear it back into the older wood to cut it down to size. Shape your Thuja with a hard prune in early summer. Do not remove more than one-third of its foliage during a single growing year. Instead, wait until next summer to rejuvenate it again. It may take your Thuja several seasons to fill in the gaps left behind by shaping it back into the old wood.