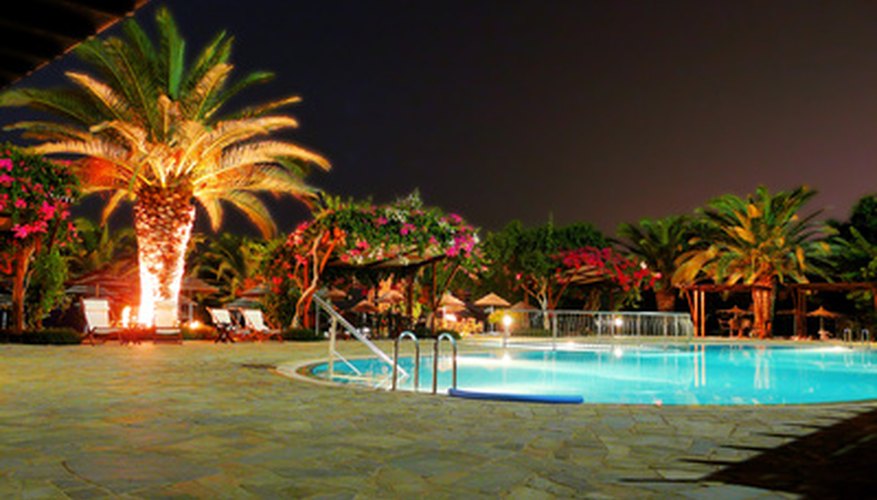 Summer's hot weather often makes people want a pleasant place to cool off. If you are fortunate enough to have a backyard pool, make it even more inviting by asking friends and family members to enjoy it with you. Give the adults time off to take pleasure without worrying about small kids and pool safety issues by throwing an adult-themed pool party.
Poolside Luau
Create a charming party that brings to mind tropical Pacific island life with a luau theme. Start by decorating the area around the pool with the right flowers. If you don't have palm trees, buy a few plastic ones to place around the sides of the pool. Add flowers such as birds of paradise and hibiscus to greet guests. If you have a surfer in the family, place surfboards against the sides of the pool. You can also make surfboards from foam cut-outs. Decorate the table with leis, banana leaves and sunglasses. Place towels on top of chairs. Serve guests drinks in pineapple husks and coconut shells and appetizers such as shrimp topped with bacon, hot salsa, and pizza topped with tropical fruit such as guava. Bring out chocolate-covered macadamias and punch spiked with tropical rum.
1950s Fun
Hold a party right from the era of bobby socks and Chuck Berry. Buy records with rock 'n' roll hits from the 1950s. Play the music to greet guests as they arrive. Place inflatable plastic palm trees in the pool and pool towels for guests in shades of black, white, pink and turquoise along the outside to help create a 1950s atmosphere. Add balloons shaped as musical notes for people swimming to play with. Serve your company a classic 1950s food: fondue. Offer pieces of bread and deli meat on skewers, which diners can use to dip in the fondue. Give those who want something more substantial cheeseburgers and French fries. Accompany the meal with 1950s cocktails like martinis. For dessert, serve milk shakes and ice cream.
Vegas Night
Bring your guests to Las Vegas on a hot summer night. Buy neon-filled tubes to place around the sides of the pool in day glow colors such as hot pink and lemon yellow. Treat guests to a Vegas style meal by putting out a large buffet in front of the pool with items many different cuisines such as sushi, chicken parmigiana and ruben sandwiches. Designate an area where guests can play games such as blackjack and poker by putting out a table with chairs, cards and tokens they can later redeem for prizes.
References