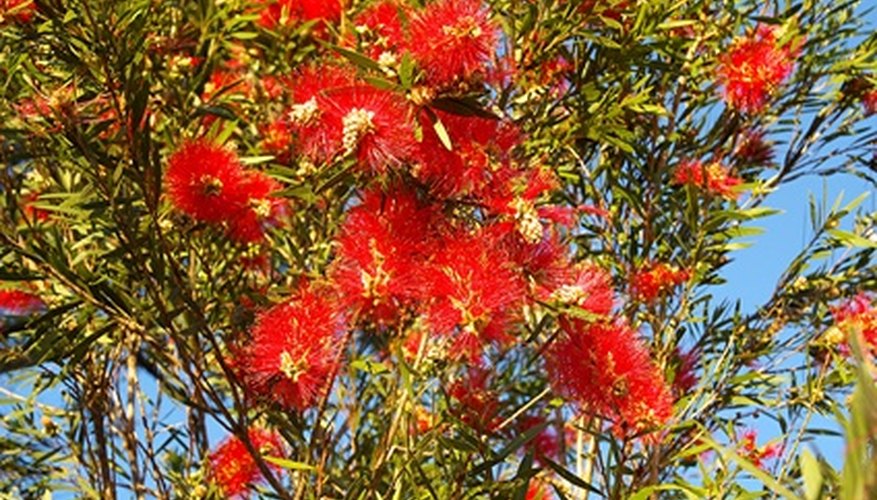 Australia is a vast country with many environments—from the exotic, wet tropical rainforests of Queensland to temperate seashores and the arid region simply known as the outback. Australia boasts a number of stunning flowering plants, with several native exclusively to this biologically diverse country.
Lemon Bottlebrush
A member of the myrtle family, lemon bottlebrush (Callistemon citrinus), also called crimson bottlebrush, is a flowering shrub native to Australia. The plant has leathery green leaves with a slight citrus fragrance and distinct, fuzzy flowers in brilliant shades of red. The evergreen plant is popular as a specimen, and is a good addition to wildlife gardens, thanks to its ability to attract hummingbirds. Lemon bottlebrush is best suited to a sunny location in USDA zones 8B to 10. The shrub should be cultivated in well-draining, sandy soil that's rarely watered. This drought-tolerant plant will suffer if over-watered.
Silver Spurflower
Silver spurflower (Plectranthus argentatus) is a low-growing shrub native to Australia. The plant is notable for its somewhat fuzzy, silvery green leaves, and for its tiny white blooms, which show up in the summer. Silver spurflower may be grown outdoors as a specimen or border plant, or indoors as a lush houseplant. Silver spurflower does best in light or dappled shade in USDA zones 10 and 11, preferably in fertile, well-draining soil. Silver spurflower should be watered occasionally for best results. If grown indoors, place the plant in bright but indirect sunlight and keep the soil barely moist to the touch.
Strawflower
Strawflower (Bracteantha bracteata) is a flowering perennial member of the aster/daisy family that's native to the scrubs of Eastern Australia. The plant is often grown as an annual in cooler climates. Strawflower is a cheery-looking plant that offers long, thin green leaves and fluffy flower heads in a spectrum of colors ranging from yellow to white, lavender or pink. Strawflower makes a nice addition to a flower bed, and may also be used in a window box or container. Strawflower prefers full sunlight in USDA zones 8 to 11. Well-draining soil that's watered when dry is ideal for this low-maintenance plant that requires very little additional attention. Avoid planting in clay-based soils, as strawflower will almost certainly rot in these conditions.