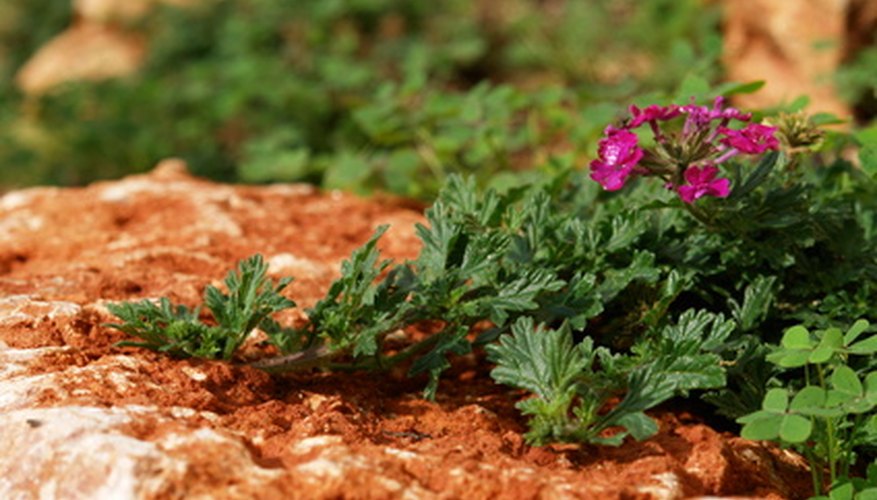 Although ground covers are often planted in the form of small bedding plants, planting ground cover by seed is the best way to cover a large area quickly and easily. Ground covers are useful plants that will stabilize the soil and prevent erosion on steep, difficult to mow slopes while adding interest and beauty to the landscape.
Irish Moss
Irish moss (Sagina Subulata) grows only an inch tall, forming a thick, green carpet. In spring and early summer, Irish moss will be covered with tiny star-shaped blooms. Irish moss can be planted by seed in well-drained soil. In warm climates, the plant should be planted in partial shade, where it won't be exposed to hot afternoon sunlight. Irish moss is hardy to USDA zones 4 through 9.
Crown Vetch
Crown Vetch is a good choice for low-maintenance areas and steep slopes and is sturdy enough to grow in poor, shallow soil. Once established, crown vetch is virtually maintenance-free and will be covered with attractive and long-lasting pink flowers during the summer. Crown vetch seeds can be planted directly into rough, rocky soil as long as the top of the soil has been loosened with a rake or hoe. Plant crown vetch in USDA zones 3 through 7.
Creeping Thyme
Creeping thyme (Thymus serpyllum) is a robust, fast-spreading evergreen ground cover that will be covered with lemon-scented pink or lavender blooms in spring and summer. Creeping thyme seeds can be planted in well-drained soil and sun or light shade, and as a result, you'll have an attractive, low-care ground cover that will thrive for many years. Creeping thyme is hardy to USDA zones 4 through 9.
Moss Verbena
Moss verbena (Verbena Tenuisecta) is a drought-tolerant, showy ground cover that is covered with stunning blooms in shades of lilac, purple and pink in mid-summer. Moss verbena seeds should be planted in full sunlight and any well-drained soil. Moss verbena is hardy to USDA zones 9 through 11 but can be planted as an annual in cooler climates. As an added benefit, the colorful blooms will attract plenty of nectar for butterflies and honeybees.
Hypericum
If you are partial to bright yellow, then hypericum is a good choice for you, as hypericum, a perennial ground cover, will be covered with bright gold and yellow blooms in late spring and again in early autumn. Plant hypericum seeds where the plants will be exposed to bright sunlight all day. Hypericum is hardy to USDA zones 6 through 9.