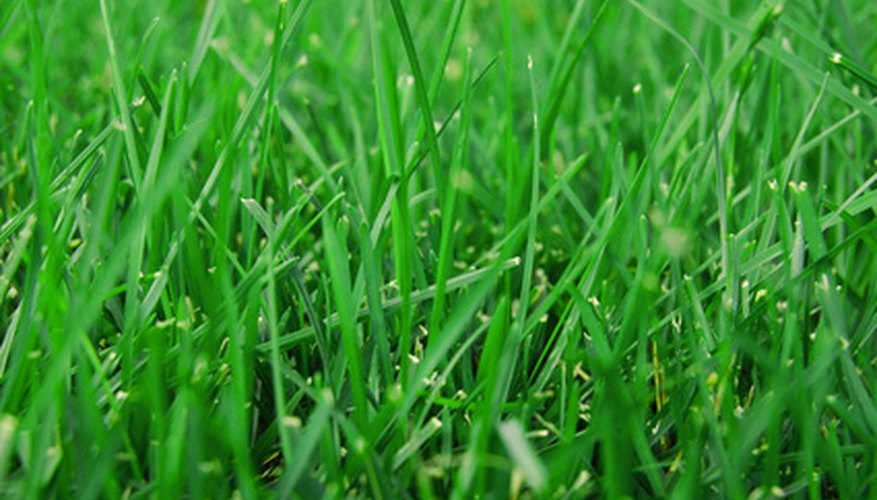 Centipede grass grows very well in Mississippi because the conditions are good. It is hardy in hot temperatures and can deal with dry conditions. This species is apple-green in color, grows slowly and will tolerate moderate shade if needed. It is not native to the U.S., but is a popular choice as a low-maintenance turf grass south of the Mason-Dixon line from Texas to southern North Carolina. Centipede grass retains its color year-round, adding cosmetic appeal to Mississippi communities.
Plant centipede grass seed in Mississippi in May or June, when the conditions are hot and dry. Measure the planting area to determine how much seed you will need. Use a tape measure to get the width and length of the largest part of the lawn. Multiply the two numbers to determine the square footage.
Determine the depth of the soil to see if it will support the centipede grass root system. Put a shovel into the ground and measure the depth with the measuring tape. Centipede grass needs 6 inches for sufficient growth.
Spread topsoil over the planting area if you need to make it deeper. Level it with a rake. Run a rototiller over the yard to loosen up the soil to a depth of 4 to 6 inches. Rake until smooth.
Use the square footage to determine how much centipede grass seed you need to buy. The seed bag will have information on what rate to sow the seed.
Spread centipede grass seed with a hand or mechanical spreader. Work horizontally first, row by row, to ensure even coverage. Then do a second pass, vertically this time, to fill in any gaps. Too few grass seeds will cause a sparse lawn and too many seeds will result in a fight over nutrients.
Lay down a thin layer of straw on top of the centipede grass seed. This will hold it in place, encourage germination, and keep birds from eating the seed. Expect it to take up to 30 days for the seed to germinate.
Water the sown seed to keep it moist. This is especially important because Mississippi can be so hot. Set up sprinklers to water it evenly, or use a garden hose on an oscillating setting. Once centipede grass sprouts, it can tolerate dry conditions, so you don't need to continue with the watering schedule.
Lightly fertilize centipede grass in the spring. Giving it too much or applying food more than once annually will cause the grass to die in the cooler winter weather. Give it 1 to 2 lbs. of nitrogen for every 1,000 square feet of grass.