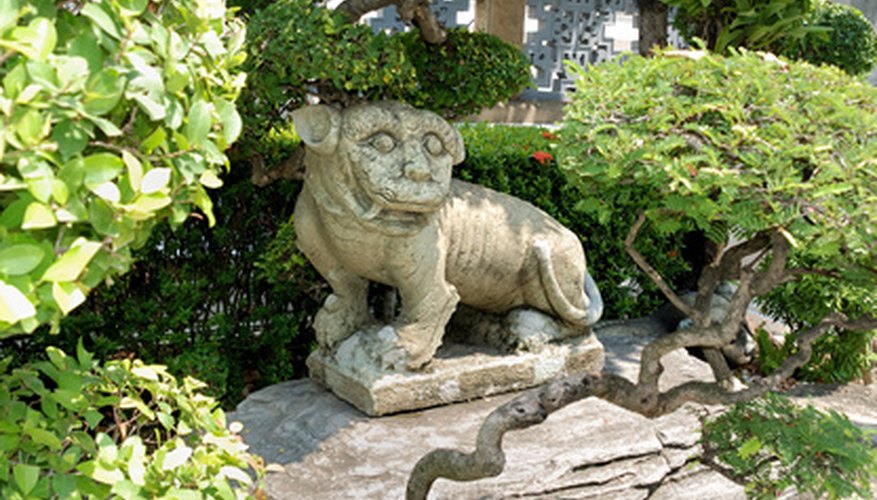 Creating an oriental garden results in a unique landscape that can calm and inspire. Several different types of Asian plants are commonly planted in oriental gardens, and favorites such as bamboo and flowering shrubs help define the area's oriental theme. When planning an oriental garden, keep concepts like simplicity at the center. Tailor focal points around delicate, graceful blooms. Keep the garden sparse or full, depending on your desired look. After choosing a few oriental-inspired plants, consider stepping stones, ponds and gravel to help achieve peace and harmony in the garden.
Chinese Redbud
The Chinese redbud comes in several different varieties. Oriental gardeners generally prefer the Avondale cultivar, but Alba, Nana and Shipobana are additional options you can consider. The Chinese redbud is easy to transplant and makes a statement in the landscape when in bloom. Rosy-purple shaded flowers grace the branches, accompanied by heart-shaped leaves. Chinese redbud requires full sun for optimal growth and usually reaches heights between 8 and 12 feet. This upright, medium-sized flowering shrub is attractive in many Asian-themed landscapes and helps define oriental gardens.
Japanese Bamboo
Bamboo has long been a staple in oriental-themed gardens. Introduced to the United States from Japan, Japanese bamboo produces woody stalks and grows to heights between 4 and 8 feet tall. It is known to spread rapidly and grows in thick, dense groves. Carefully contain Japanese bamboo if you plant it as an ornamental in your oriental garden, or it can become invasive. Partial sun in well-draining soil is required for optimal growth. Water frequently, but avoid creating soggy soils as bamboo doesn't take to sitting water. If a defined area of the garden is not available for planting Japanese bamboo, consider growing it in a container pot for better control. When used as a backdrop along flower beds, bamboo helps add height, interest and harmony to oriental gardens.
Flowering Quince
Another popular oriental flowering shrub is the flowering quince. Flowering quince tends to reach heights between 4 and 10 feet high when mature and 4 to 10 feet wide. Showy flowers emerge in the spring in shades of pink, white or red with accompanying red-bronze foliage. Flowering quince thrives in full or partial sun exposure. Slightly acidic and moist, well-draining soils are preferred for optimal growth and bloom. Popular cultivars include the Jet Trail, Cameo and Texas Scarlet. Flowering quince tends to be a rounded shrub with a twiggy appearance. It is slightly drought-resistant and will tolerate windy regions. Gardeners typically employ this flowering shrub as a hedge, border or barrier plant in their oriental landscapes.