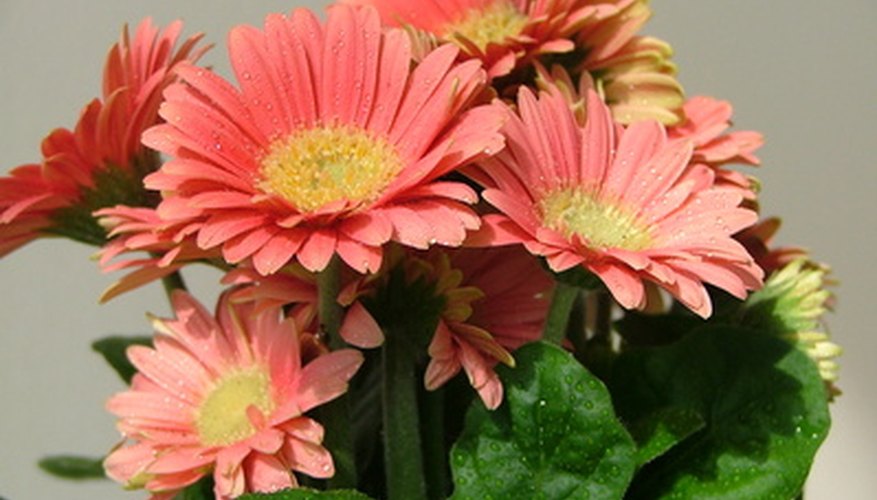 The gerbera daisy is native to Europe, South Africa, Asia and warmer parts of the United States. It's a member of the daisy family and there are many varieties to choose from. Gerbera daisies have beautiful, long-lasting satiny flowers. Each bloom can be as large as 5 inches across. They come in vibrant colors such as yellow, red and orange. A mound of dark green foliage complements each flower. Plant gerbera daisies as perennials or annuals, depending on where you live. The flowers will likely grow back each year if you plant them in warm areas in the southern U.S. They grow best in USDA Hardiness zones 9 to 11.
Choose a planting location that is in the full sunlight with well-draining soil. Gerbera daisies need at least six hours of sun per day for best growth. They can grow in partial shade, but thrive in sunny spots.
Purchase gerbera plants in colors that complement your house and other landscape plantings. Choose one color of flower for a streamlined, uniform look. Opt for a variety of color for an eclectic result.
Fill plant pots and containers halfway with a high-quality peat-based potting soil. Place the gerbera daisy in the center of the pot and fill in the remaining space with the soil. If you're planting several in one container, such as a window box, put them each next to each other in the desired design and backfill with soil.
Water the flowers thoroughly until water comes out the holes in the bottom of the pot. Keep the soil moist through the growing season. Remove dead and spent flowers, as well as dead leaves.
Use gerbera daisies to brighten up your porch or patio. Place containers or ceramic pots and put them in sunny spots.
Put the flowers in whiskey barrels then place the containers throughout your yard, including along the driveway or walkway.
Feed gerbera daisies in your landscape with a water-soluble food every other week. Follow the instructions on the label.