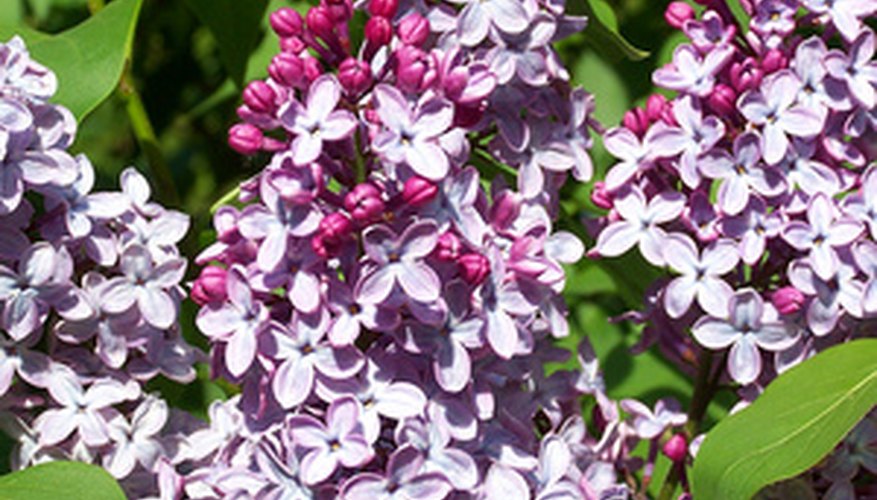 Lilacs, among the most fragrant harbingers of spring, are of the genus syringa with several species and cultivars and thousands of varieties. The shrubs produce single or double flowers in several colors.
Syringa x hyacinthiflora
Early-blooming lilacs grow 12 to 18 inches per year with an average height and spread of 10 feet.
Syringa vulgaris
These most common of lilacs boast a powerful scent. Maturing at 15 feet high with a 10-foot spread, these shrubs grow 12 to 18 inches annually.
Syringa Josee
Hardy dwarfs grow 13 to 25 inches per year and reach heights of 4 to 6 feet with a 4- to 5-foot spread. Josee's lavender-pink flowers reappear intermittently during the season.
Dwarf Korean
This compact hybrid has a slow grow rate, 12 inches or less per year. It tops out at 6 to 8 feet high with an 8- to10-foot spread.
Syringa x prestoniae Miss Canada
This is a hardy spreading lilac with an annual growth rate of 13 to 24 inches per year. Heights can reach 6 to 9 feet with a spread of 5 to 8 feet.
Syringa meyeri
Known as Meyer Lilac, this slow grower--12 inches or less a year--has a mature height of 6 feet and a spread of 8 feet.