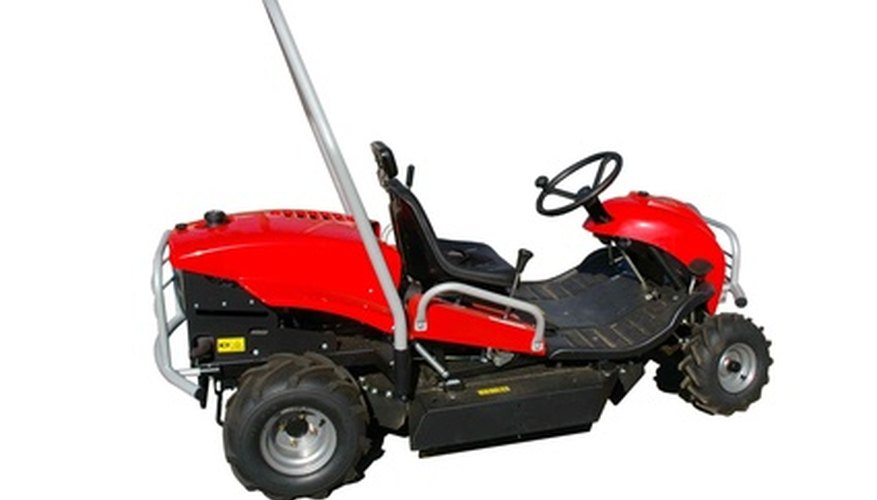 TONDEUSE AUTOPORTEE ref 1400 image by Marie-Thérèse GUIHAL from Fotolia.com
For women who are tired of waiting for their husbands to get off the couch on Saturday and mow the lawn, there are a number of riding mowers they can purchase to do the job themselves. With a riding mower, the time and difficulty of mowing the lawn is greatly reduced. Women on riding mowers can enjoy the sun and have some fun while they are caring for their yards.
Poulan XT
This mower features a 30-inch deck, is easy to use and gets the job done fast. This affordable tractor has a nice small size, which makes it easy to store and maneuver. The multiblade feature makes for more precise cutting. This mower is available at Home Depot with free shipping; the 2010 retail price is $849.
Poulan XT 30 In. Deck 12.5 HP Briggs & Stratton 6 Speed Tractor. Model # PXT12530
Poulan Pro PB19546LT
This gorgeous black tractor is fancier and pricier than the previous Poulan. It offers a six-speed shift transmission, a spring-assisted deck lever and has manual blade engagement. Every woman will look strong and sexy on this riding mower. It is available at Ace Hardware and at Ace Hardware online. The 2010 retail price is $1,781.99; the online price is $1,457.99.
Poulan Pro PRO PB19546LT lawn tractor
Snapper 7800545 LT130
This shiny red Snapper lawn tractor is top of the line. It features a a 23-horsepower engine, has single pedal control and boasts electric blade engagement. It also has easy all-wheel drive and 20-inch rear wheels. This mower is available from Amazon.com with free shipping. The 2010 retail price is $2,699.99.
Snapper 7800545 LT130 AWS Series 46-Inch 23 HP Briggs & Stratton ELS Twin Riding Lawn Mower With All Wheel Steering & Single Pedal Control #28838 Retail: $2,699.99