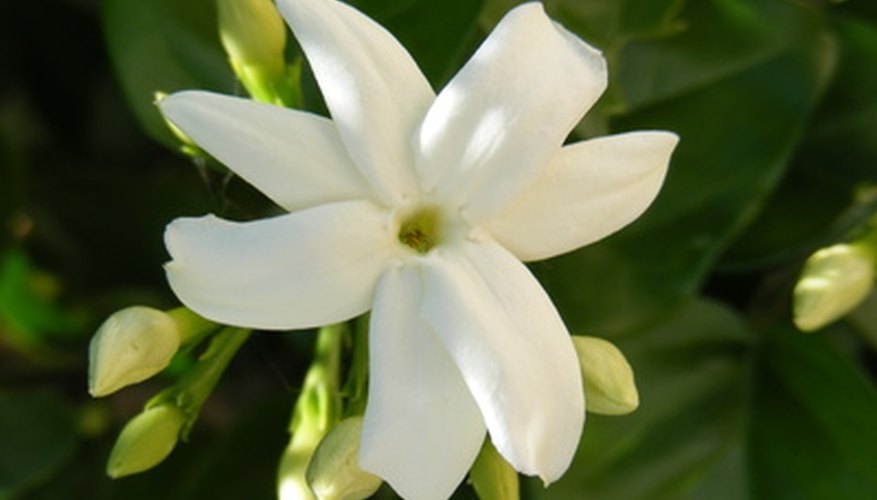 Within the Indomalaya ecozone is India, a country densely packed with natural riches such as Himalayan coniferous forests and the tropical rainforests of the northeast. Many plants native to India are grown across the world for their ornamental value and their uniqueness. Those looking for summer blooming Indian plants have a myriad of lovely specimens from which to choose.
Mazus Reptans
Mazus reptans is a low-growing perennial that has a dense, compact habit. The spreading plant rarely reaches heights over 6 inches and is popular as a low-maintenance, non-invasive ground cover. A native of India, mazus reptans sports thin, grasslike leaves and speckled blooms that resemble snapdragons. The spring and summer flowering plant may have blooms that are blue, lavender, yellow or red. Mazus reptans can be grown in full sun or partial shade in USDA zones 5 to 8. The plant prefers a well-draining, moderately fertile soil that is watered on a regular basis, with more water in the hot summer months and less in the winter.
Arabian Jasmine
Arabian jasmine (Jasminum sambac) is a popular jasmine species in India that is believed to have originated from there as well. The evergreen plant is a sprawling vine of about 6 to 10 feet in length that sports dark glossy leaves and crisp, deeply scented white blooms. A favorite for entryways and trellises, Arabian jasmine may be cultivated in USDA zones 9 to 11. The vine blooms throughout the summer, though it will bloom for most of the year if grown in a warm enough climate. A well-draining soil that's kept consistently damp is ideal for this water hungry plant. Arabian jasmine will tolerate both partial sun and full sun. Avoid growing this plant in Florida, where it is categorized as an invasive.
Rose of Sharon
A member of the mallow family, rose of Sharon (Hibiscus syriacus) is a flowering deciduous shrub native to Asia, including India. The summer blooming shrub may grow to be up to 10 feet tall, producing showy, silky flowers in colors ranging from pure white to pale pink, lavender or white and crimson. The shrub does best in full sunlight (with some afternoon sun in warmer climates) in USDA zones 5 to 9. The plant should be grown in a deep, fertile soil that is well-draining and watered on a semi-regular basis. Though the rose of Sharon may benefit from some fertilizing in certain soil types, the plant generally does best if left to its own devices without too much interference from the gardener.