Freesia is a popular flower often found gracing wedding bouquets and gardens with its fragrant citrus scent. The oil from the flower is used in perfuming bath and cosmetic products. The flower blooms in many colors and can have single or double petals. The history of this flower is convoluted because it was mistakenly placed in the wrong genus and species when it was first discovered.
Description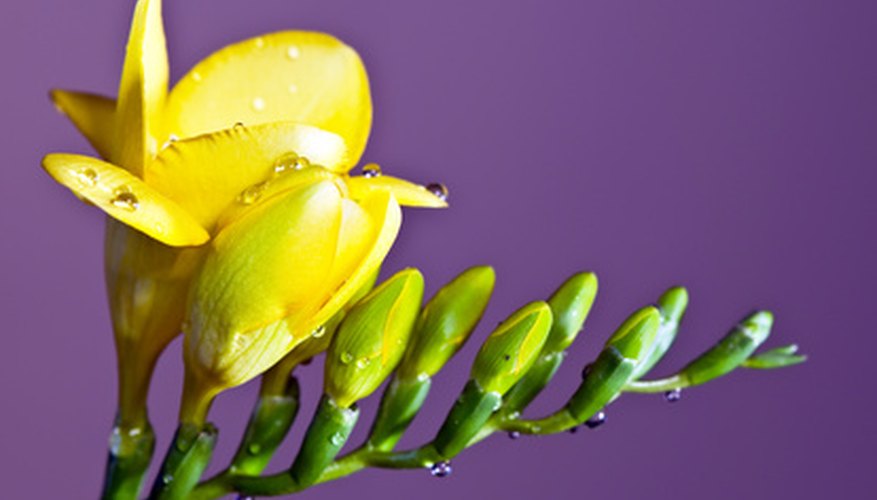 Freesia plants have upward growing sword-shaped green leaves that grow to 2 feet high and resemble the leaves of an iris. Two to eight spikes grow up from the leaves, and 8 to 12 flowers can grow on one spike near the top. The flowers are bell or funnel shaped and the growing habit is similar to gladiolas. Flower colors include white, blue to lavender, red to pink, orange and yellow. There are a few multi-colored varieties as well.
Origin
The country of origin for freesia is South Africa. Most species were found in the Cape Province area in southern Africa and two others were found just north of the equator in a tropical climate.
Name
The plant is named after a physician and botanist from Germany named Frederick Freese. Dr. Christian P. Ecklon, a collector of plants from South Africa, named the flower after his friend and student.
Early History
In 1766, two varieties of freesia were taken to be grown in Europe. They were classified as a Gladiolus species. Several other varieties of freesia were mistakenly classified as part of the Ixis family. Finally, in 1866, the plants were reclassified and the flower was given its own species. The first of the varieties to be described was a white flower called Freesia alba and was described by G.L. Meyer. The early flowers were not well known as they were not available readily to the public and were only grown in greenhouses and nurseries by private growers. They did not take well to cold weather and the climate had to be controlled for them to grow. In 1874, a man named Max Leichtlin found a yellow freesia growing in the Padua Botanical Garden, and he took corms, cultivated them and began to sell them as a potted indoor plant.
English and American History
Freesia flowers made an appearance in England in 1878 and were introduced to America shortly thereafter. Articles about the flower began to be published in horticultural magazines, and breeding of the flower began. Today, freesia flowers can be found in several different colors, and many varieties can be grown in northern gardens during the summer.
Hybrids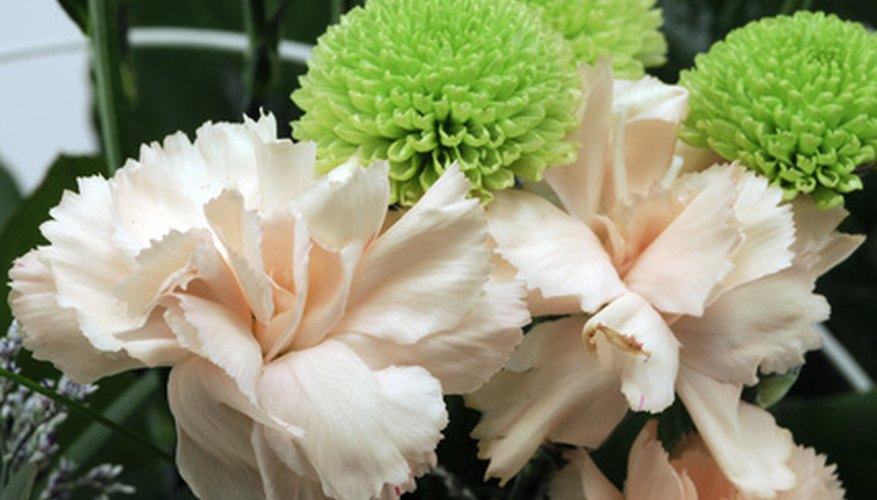 There are 14 species of freesia, which belongs to the Iridacea family. There are many different modern hybrids that can commonly be found in garden centers all over the world. The hybrids include Aurora, a yellow variety, Pimpernel, a red flowering freesia, Royal Blue with blue to lavender flowers, Talisman, an orange variety and Alpine, which produces double white flowers.
Language of Flowers
In the Victorian language of flowers, freesias represent innocence or friendship. They have been given the honor of signifying a seventh wedding anniversary.