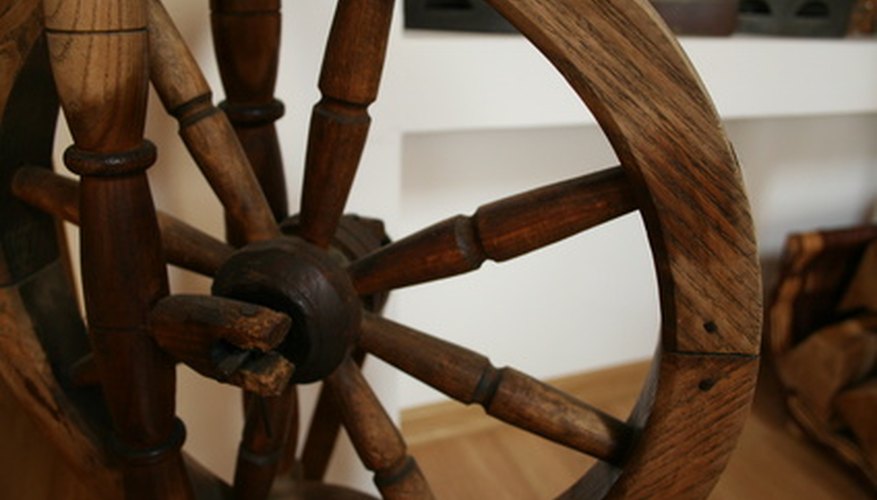 A spinning wheel is a piece of hardware used to weave thread from natural/synthetic fibers. The thread is then woven into cloth. Spinning wheels have been used around the world for centuries, replacing the early handloom. According to Indian historian and professor Irfan Habib, the spinning wheel is thought to have been invented in India. There are various types of spinning wheels, classified by their general appearance, speed and bobbin capacity. The main components of all spinning wheels are common and include a wheel, drive band, flyer assembly, bearings, treadle, footman, treadle bar and connection, distaff, tension screw and a table. Spinning wheels are either single drive or double drive.
Saxony Wheel
The Saxony wheel, also called the "Cinderella" wheel and the flax wheel, is a three-legged structure with its components arranged horizontally—its flyer on one end and the wheel on the other. It was invented in the late-fifteenth century, with the wheel of its earlier models being spun by hand. A foot treadle was incorporated in its later models. The Elizabeth, Kromski Symphony and Prelude and Ashford Traditional wheels are examples of Saxony wheels. They are made from cherry, birch, maple and beech hardwoods.
Castle Wheel
A castle, or upright, wheel has its flyer and spindle located above the spinning wheel. It was invented Ireland in the early part of the19th century. Most castle wheels have four legs but are typically more compact than other types of spinning wheels. Some of its varieties are foldable and can be easily packed and stowed away in suitcases for travel. Common types of caste wheels include Kromski Minstrel and Mazurka, Ashford's Traveller, Jensen Tina II and Majacraft wheels. Castle wheels are made from maple, birch, and European alder and are both single and double drive.
Norwegian Wheel
A Norwegian wheel resembles the traditional Saxony wheel in appearance. It is available in a wide range of hardwood, including walnut, oak, mesquite and cherry. An example of the Norwegian wheel is the Kromski Polonaise. The Polonaise features wheel angle adjustments so the flyer can be set to the optimal working angle. Its large wheel is supported by pin and socket bearings, offering ease of treading and low friction. The components of the polonaise lie between the posts of the wheel and its footman passes from the treadle to the bench. The Polonaise Norwegian wheel is available as standard drive and double drive.