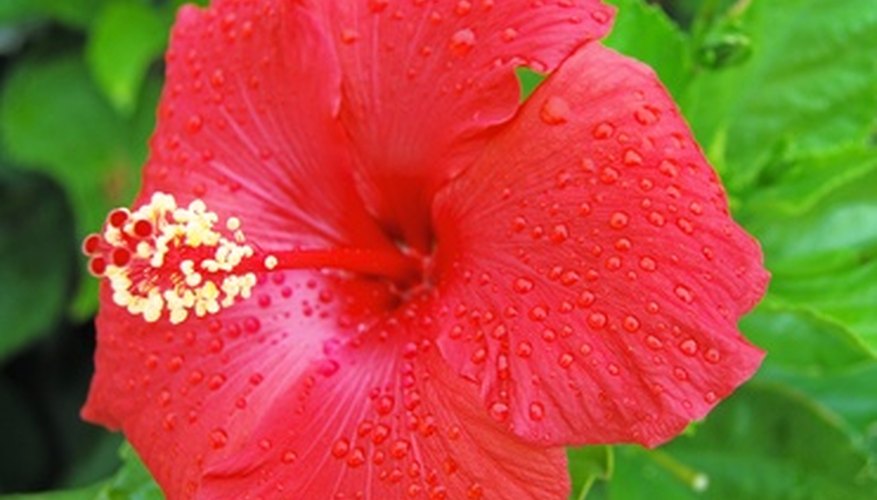 The braided hibiscus is a small tropical tree often used to decorate patios and indoor areas. This kind of tree has a braided trunk that is composed of several interwoven coils. This does not occur naturally. Instead, the grower must actually train the branches to coil around each other to form a tree-like shape rather than simply growing out. Horticulturists do this with the help of a support. You can buy already braided hibiscus from many stores, but doing it yourself can be a fun adventure.
Prune the lower branches off of your hibiscus while it is young. Leave one standing tall, as straight as possible. Do not cut too many branches at once or you will risk traumatizing your plant. Just do a few at a time, up to three a week. Braiding a hibiscus is a gradual process. The best time to do pruning is while the plant is dormant. The plant will go dormant if you place it in colder temperatures, no lower than 60 degrees Fahrenheit.
Wait for new branches to grow where the others were cut. Branches grow slowly and take a month or two, so long as the hibiscus is not dormant. Bringing it into an area with warm temperatures of around 70 degrees Fahrenheit or above will awaken it.
Plant a stake next to the core branch and tie the small, newly grown branches to it with a cord so that they are vertical. Twist them slightly around the core branch to create a braided effect. Trim away any tiny branches growing horizontally from the new growth.
Add new ties as the branches grow and try to separate. The ties will force the branches to grow around your central one.
Prune off any new buds from the branches and the length of the central shaft as they grow. Leave the branches at the top alone.
Keep the hibiscus in an area between 60 and 90 degrees Fahrenheit. Water it regularly, making sure that the soil is damp, and keep it in full sun. Add fertilizer or plant food every few weeks as this will encourage the hibiscus to bloom more. When the trained branches reach the top of the bush you can remove the ties. You will need to continue to prune off any new branches that sprout horizontally from them.
Things You Will Need
Small hibiscus

Armature

Shears

Ties

Fertilizer or plant food

Watering can