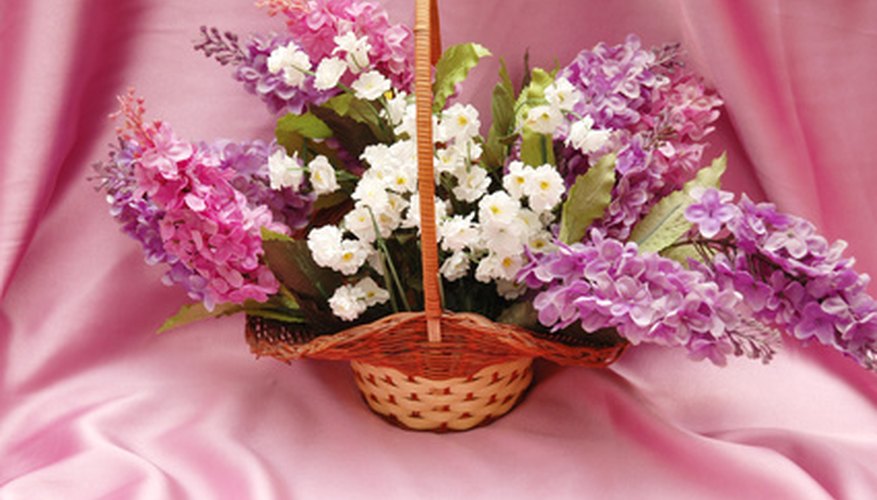 A cutting garden filled with favorite blooms allows the home to be filled with fresh cut flowers. Grown in a wide range of heights, shapes and colors, some of the best fresh cut flowers have strong, erect stems that hold the flowerhead while ensuring the bouquet keeps its shape. Other flowers have full, bushy blooms that help to fill in the arrangement and create a striking display. Have fun mixing and matching different colors together or using one single variety to create your own design.
Lilac
Lilacs (Syringa pubescens) make stunning fresh cut flowers to add to a summer bouquet. Lilacs flower from deciduous shrub that grow 6 to 10 feet tall and wide and have a moderate growth rate. The single, pale purple, white-throated flowers on lilac blooms open to white and have a spicy fragrance. Lilac flowers also attract butterflies and hummingbirds. To ensure a long blooming season, deadhead or remove the spent blooms as soon as they are visible. Lilac flowers grow best in full sun to part shade and moist, well-drained soil that is fertile and alkaline. Lilacs are suitable in USDA zone 4 to 7.
Astilbe
Astilbe (Astilbe chinensis var. pumila) is a perennial flower that has a vigorous growth rate and clumping habit. Astilbes grow 6 to 12 inches tall and wide. The pink to red, plume-like, dense, conical, erect to arching flowers on astilbe grow in groups and bloom during summer, making for a striking summer arrangement. The red to green leaves are serrated and oval or elliptical, and comprised of three-ternate leaflets that grow in mounds at the base of the plant. Astilbe grow best in full sun to partial shade and well-drained, moist soil. They are not tolerant of dry, clay or alkaline soils. Astilbe are suitable in USDA zones 4 to 9.
Zinnia
Zinnia (Zinnia elegans) is an annual flower that blooms in late spring to early fall, creating a long-lasting bloom to add to an arrangement. It grows 6 to 36 inches tall and 8 to 12 inches wide and has a vigorous growth rate. The tall, erect stems of zinnia hold the colorful, 2-inch-wide blooms, making for an ideal fresh cut flower. The bloom forms on zinnia range from single to semi-double or double and grow in a wide range of colors including, red, pink, orange, yellow and purple and attract butterflies and birds to the garden. Hardy, zinnia is both drought and deer tolerant. To keep the bouquet or arrangement looking fresh, deadhead the spent zinnia blooms as soon as possible. Zinnia grows best in full sun and well-drained soil. They are hardy in all USDA zones.