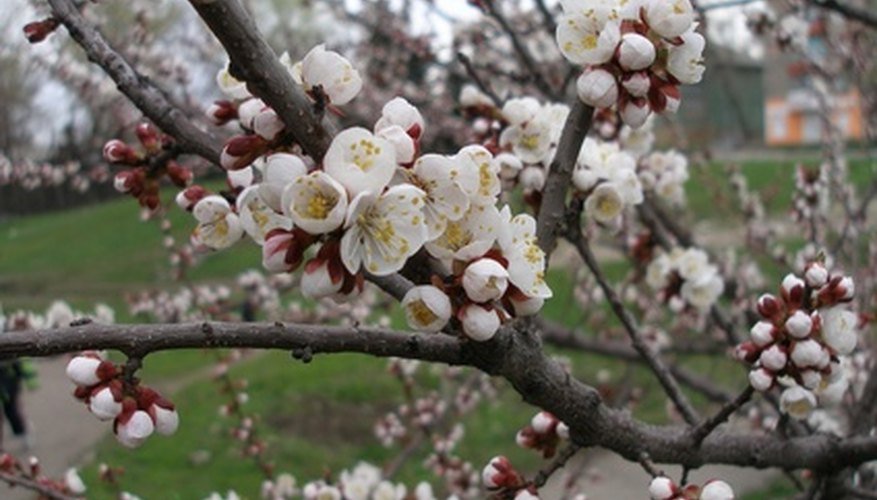 apricot-tree image by I'm just amateur from Fotolia.com
Flowering trees make stunning accent trees grown alone in the landscape, standing alongside a driveway or grouped in the backyard. Grown in a wide range of sizes, shapes and colors, the most beautiful flowering trees produce masses of blooms in a wide range of colors, including pale pinks, deep reds and crisp whites. Their forms range from weeping to conical with some flowering trees categorized as evergreen, meaning they retain their foliage color all year long.
Flowering Apricot
Japanese flowering apricot (Prunus mume) is a deciduous flowering tree with a rapid growth rate that will have the garden in color in a short period of time. They grow 10 to 20 feet tall and have a rounded, dense form. Blooming in late winter to early spring, the fragrant, double flowers of white, red or pink create a beautiful flowering tree. The 2- to 4-inch-long green leaves on the flowering apricot tree are oval in shape. Japanese apricot trees grow best in full sun to part shade and well-drained soil. They are suitable for growing in United States Department of Agriculture (USDA) hardiness zones 6 to 9.
Weeping Higan Cherry
Weeping Higan cherry (Prunus pendula 'Pendula Rosea') is a flowering deciduous tree that grows 15 to 25 feet tall and wide and has a distinct weeping form. The pale pink to rose pink, two- to five-flowered clusters or umbels of the weeping Higan cherry trees emerge in late winter to early spring and before the new leaves form. Following the flowers is the 1/3-inch-wide, rounded, pea-sized fruit that attracts birds. The oval to elliptical shaped, double-serrated, 4-inch-long, green leaves of the weeping Higan cherry tree turn fiery colors of red and yellow in fall, creating an attractive flowering tree to grow among the landscape. Hardy, weeping Higan cherry trees have a good disease resistance. They grow best in full sun to part shade and well-drained, fertile soil that is moist. Plant weeping Higan cherry trees in USDA zones 5 to 8.
Southern Magnolia
Southern Magnolia (Magnolia grandiflora) is an evergreen tree with dramatic flowers that make them one of the most beautiful flowering trees. They grow 40 to 80 feet tall and 30 to 40 feet wide, creating a commanding presence in the landscape. Southern magnolia trees have a symmetrical, conical form that is dense and a slow to moderate growth rate. The fragrant, creamy white, 8- to 12-inch-wide flowers on the southern magnolia emerge in summer to last into the season. The dark green, leather-like, 5- to 10-inch-long leaves have a brown to cinnamon color on the undersides. As an evergreen tree, southern magnolia trees retain their green foliage year round. They grow best in full sun to part shade and well-drained soil. Southern magnolia trees withstand high amounts of moisture and grow best in USDA zones 7 to 9.