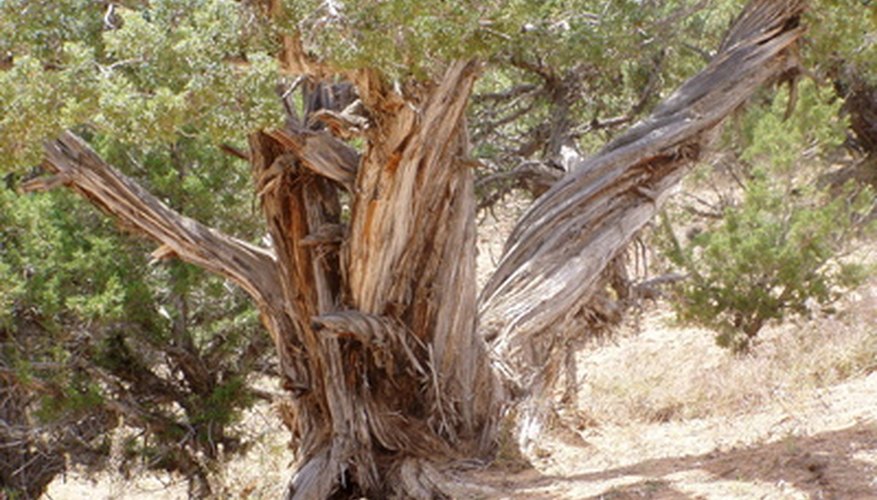 In areas such as large parts of Texas, cedar trees are considered to be weeds, according to Texas A&M Extension. Cedars compete with native rangeland plants for space and resources, and they can become quite invasive. The solution for many farmers and ranchers is to clear cedar stands wherever they find them. Though cedars may grow into trees where water is sufficient, many are scrubby in size and resemble bushes.
Mow down smaller cedar brush using a brush mowing attachment for a lawn tractor. Repeated mowing will kill remaining stumps and prevent cedar brush from returning as sucker trees.
Measure the size of individual trees with a pair of stem calipers. Select a hand saw to cut down trees smaller than 4 inches in diameter. Use an axe or chainsaw for larger trees.
Make a wedge cut at the base of each tree. Have it open to a 45-degree angle in the direction you want to cut your tree. The wedge cut should only extend 1/3 of the way through the tree.
Make a narrow cut, called a back cut, on the other side of the tree from the wedge cut. The back cut should extend 2/3 of the way through the tree and should be located slightly higher on the cedar's trunk than the point of the wedge cut. The tree will fall in the direction of the wedge cut. Step away from each tree as it falls.
Remove limbs from each tree by cutting them with the chainsaw where they meet the trunk. Section your trunk into pieces by cutting it straight down from top to bottom. Do not let your chainsaw dig into the ground. This will dull the saw blade. For trees suspended in the air, cut 1/3 of the way through the trunk from the bottom up and then 2/3 of the way from the top down to meet in the middle. This will help you avoid pinning the blade.
Remove the stump either by grubbing or pulling. Cedars are naturally rot resistant and do not rot naturally. To pull a stump, wrap the cable to a winch around the stump. Activate the winch. The machine will uproot the stump and roots. To grub a stump, dig a trench around the stump that is 2 feet wide and 2 feet deep with a grub hoe. Cut all roots you encounter with an axe or mattock. Shove the stump on its side and cut the roots beneath the stump. Pull the stump free and fill in the space remaining with soil.