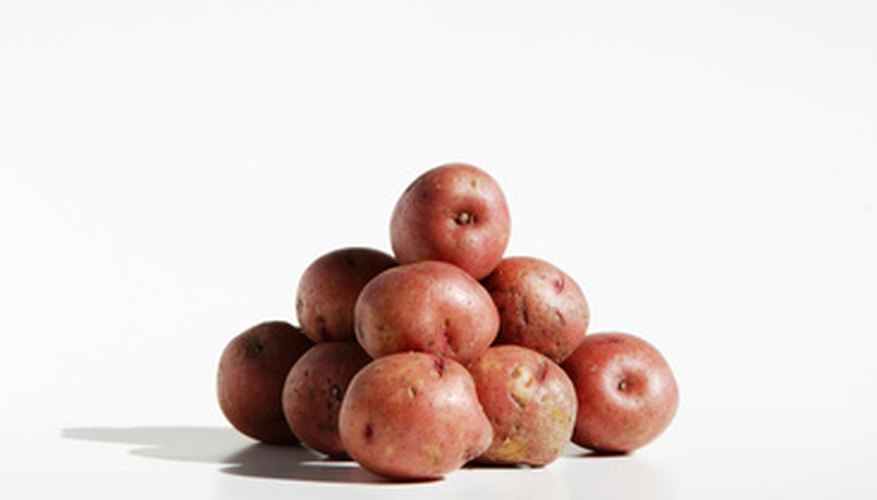 Potatoes fall into two general categories–boiling potatoes and baking potatoes. Red potatoes have members in both categories, although most are used for boiling. Boiling potatoes are lower in a starch called amylopectin, a form of pectin that helps potatoes retain their shape when cooked. Baking potatoes are high in a starch called amylase, which makes them become light and fluffy when baked. Growing red potatoes in the garden is relatively easy. Which variety to grow is a matter of personal preference.
Varieties
Also known as "waxy" potatoes, boiling potatoes can be round or oblong. Baking varieties are known as the "starchy" potatoes. Common boiling varieties include Round Red, Red LaRouge, Red LaSoda, Red Pontiac, Red Norland, Red Bliss, Viking and Ruby Crescent. Klondike Rose is a favored baking potato, although the skin browns when baked. Each variety has something to offer. Norland works well as both a baked or boiled potato and stores well. Viking, a midseason potato, produces large crops.
When to Plant
Potatoes are a cool-weather crop and as such don't grow well in hot temperatures. Seed potatoes are planted as early as March to early April in most locations. Some varieties, such as Norland, are planted even earlier in the season to take advantage of cooler temperatures. Late-season varieties like Red Pontiac can be planted as late as July and make excellent potatoes for storage for winter use.
Growing Tips
Most potatoes are grown from seed pieces rather than true seed. Potatoes from last year's crop are saved and cut into 1- to 1.5-inch pieces and planted individually about 10 to 12 inches apart on top of the soil or in shallow trenches. Soil or straw is mounded on top of the seed potatoes. When the plant emerges and reaches 6 inches high, more straw or soil is added. This continues for several weeks until the entire depth of the planting medium is 8 to 10 inches.
Harvesting
Harvesting can be done at almost any time, depending on the grower's desired use for the potatoes. "New" potatoes are harvested when the potatoes are immature and are only about 1 to 2 inches in size. Early potatoes left to mature are usually harvested in July, while mid-season to late potatoes are collected in August or September. For soil-planted potatoes, gently turn the soil with a spade to locate the potatoes about 8 inches beneath. For straw-covered beds, simply push the straw aside.
Considerations
Potatoes need uniform watering. Too much water can cause the tubers to rot. Store-bought potatoes do not make good seed potatoes. They are commonly treated with a chemical to prevent them from sprouting and prolong their saleability. It is recommended that only certified seed potatoes be used for planting. Potatoes will keep for six to eight months when stored at 38 to 42 degrees. Higher temperatures will cause potatoes to start sprouting.