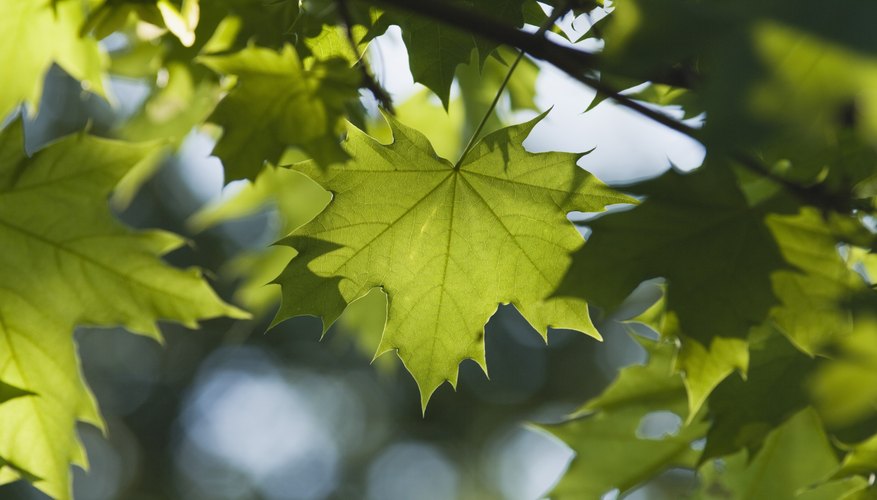 Growing a shade tree is a long-term project. Because most trees are sold as saplings, only a few feet tall, it is an investment in time. Even with a fast-growing tree, it can take several years to attain the height where the space below it is usable. A picnic under a shade tree that you planted and cared for is a rewarding experience and makes the wait worthwhile.
Red Maple
The red maple (scientific name Acer rubrum) is a fast-growing deciduous tree with a wide growing range. It can be grown in USDA Zone 3 and up. They can reach 100 feet tall but usually are between 40 and 70 feet. It may take up to 70 to 80 years to reach full maturity. They have green three- or five-lobed leaves that turn yellow or red in the fall. Select cultivars have been chosen to produce the best red colors. These range from bright red to a deep burgundy. Red maples are often one of the first trees to change color in the fall.
It likes a rich, well-draining soil that is slightly acidic. Keep it moist but not wet. It does best in full sun but it can also handle light shade. When buying these trees it is best to go to a local nursery that offers cultivars selected for your climate.
River Birch
The river birch (scientific name Betula nigra) is an adaptable fast-growing shade tree that can grow more than 18 inches per year. It can be grown in USDA hardiness Zones 4 through 9a. It grows to 40 feet tall usually but it can reach up to 90 feet tall. It is usually found in wet areas along streams that are prone to flooding.
It needs a rich acidic soil and constant moisture. It is adaptable to dry areas if watered during the warmest months. The cultivar "Heritage" is a popular type that stays under 50 feet and has a nice, even crown shape. It was selected for its colorful ornamental bark that peels away and tolerance for heat in southern areas, but it also will grow in northern areas. The cultivar was selected by Earl Cully from an original tree grown in St. Louis, which he thought was of exceptional quality.
Empress Tree
The empress tree (scientific name Paulownia tomentosa) is a deciduous tree native to China that has been introduced to the United States as an ornamental garden plant and shade tree. It is a rapid grower that can reach up to 50 feet tall with an equally wide spread. This tree can grow at a very fast pace, up to 8 to 12 feet per year. The light green leaves are 8 to 12 inches long. It has showy purple flowers in the spring.
It likes well-draining soil and full sun. It can grow in both acidic and alkaline soils and tolerates urban pollution. It is suitable for USDA Zones 5B through 9. Falling leaves and flower litter can become a problem so it is better to plant this tree in open areas.