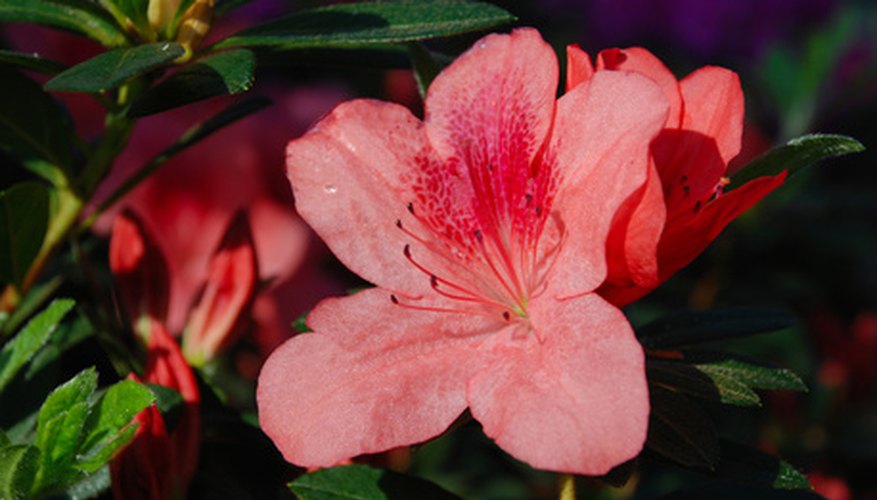 Azaleas love Mississippi's acidic soil. In the spring, blossoms from the shade-loving members of the Rhododendron family light up gardens across the state. While just about any azalea will grow in Mississippi's USDA zones 7a to 8b, there are certain types that are native to Mississippi or prefer the state's soil and climate.
Native Azaleas
Two deciduous azaleas are native to the woodland areas of Mississippi. The Piedmont azalea (Rhododendron canescens), also called pink bush honeysuckle, is found in the southern part of the state, the flatwoods and the northern and central hilly areas. Its fragrant pink flowers with long curving stamens appear in early spring. The flame azalea (Rhododendron austrinum), also called yellow bush honeysuckle, is found in the southeastern corner of Mississippi. It has showy, golden trumpet-shaped flowers that bloom in early spring.
Indica Azaleas
Indica azaleas (Rhododendron indicum) are evergreen, spring-blooming shrubs native to Asia. They were found in the antebellum South as early as 1814, with a large collection amassed at Magnolia Gardens in Charleston, South Carolina. Indica azaleas are early to mid-season bloomers that grow upright to 12 feet tall. Indica varieties that grow in Mississippi include "Formosa" (rose lavender blooms), "George L. Taber" (white to pale pink) and "President Clay" (purple-red).
Kurume Azaleas
Kurume azaleas (Rhododendron obtusum) bloom in fall, winter and/or early spring, according to the University of Florida Extension. Blooming in white, pink, red or salmon, their flower colors are more bold than the Indicas, according to Mississippi State University Extension. Because they grow only to 4 feet tall, they are commonly used as foundation plants in Mississippi. Kurume varieties that grow in Mississippi include "Hinodegiri" (scarlet), "Snow" (white), "Hexe" (deep red) and "Bridesmaid" (dark salmon).