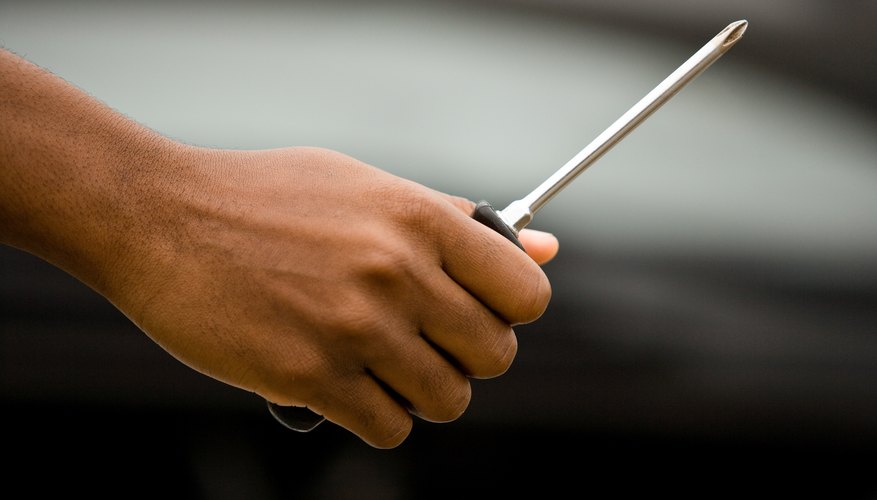 Jupiterimages/Photos.com/Getty Images
A Paslode Impulse nailer should be cleaned when it becomes difficult to press the nailer against the work surface or when the nailer does not reset itself smoothly. Paslode Impulse nailers are oiled only during cleanings, so it's important to service them properly. The manufacturer recommentds a special solvent and oil and discourages substitutes. Each Paslode Impulse nailer is a little different, but the same basic cleaning principles apply.
Remove the cap assembly with the hex key.
Unplug the spark plug wire.
Remove the cylinder head assembly by turning it 1/8 of a turn.
Spray the cylinder head with the degreaser until the dirt and buildup is removed.
Wipe the cylinder head assembly with a lint-free rag. Make sure the seal rings and the spark plug are completely clean.
Lubricate the seal rings evenly with four to five drops of Paslode Cordless Lubricating Oil.
Push the piston assembly down with the handle of the screwdriver to expose the walls of the combustion chamber.
Spray the combustion chamber with deagreaser. Continue to spray the chamber and wipe it with a lint-free rag until the buildup is removed. Be careful not to scratch the cylinder walls with sharp objects. If the buildup does not come off by spraying, use a piece of wood to apply pressure to the rag.
Place three to four drops of Pasloade Impulse Oil around the sleeve and four to five drops of oil around the combustion chamber by turning the nailer. Work the oil around the combustion chamber by pressing the nose up and down several times.
With a screwdriver, push on the nail driver until the piston is centered in the combustion chamber.
Reconnect the spark plug wire and attach the cap assembly.
Things You Will Need
Phillips screwdriver

Hex key wrench (supplied by manufacturer)

Lint-free rag

Paslode Degreaser Cleaner

Paslode Cordless Lubricating Oil