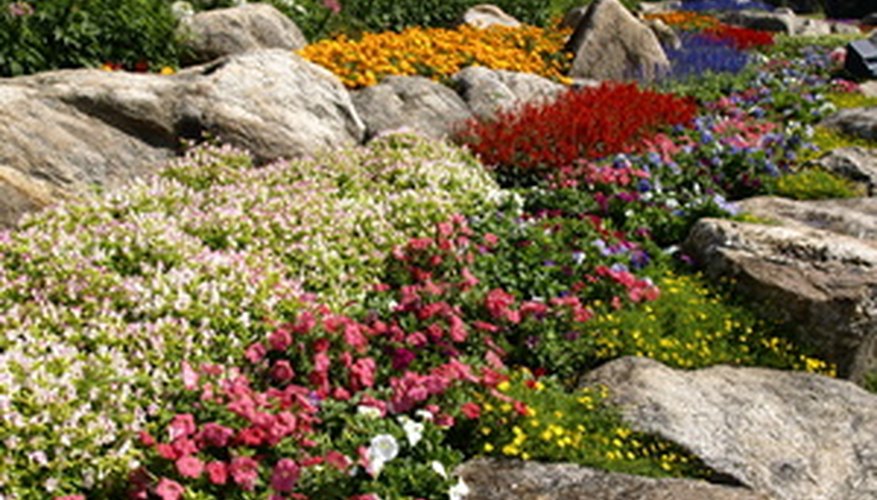 Raised landscape beds are made for the purpose of growing plants above ground. This is a method used to make landscape areas stand out or to bring them above sub-par soil. By doing this the landscaper doesn't have to work at improving the ground level dirt and can create the proper drainage conditions. Raised beds are filled with new soil that is the right type for the plants being grown.
Level the area where the bed will be located. Use a shovel to remove higher areas and lumps.
Line the area where the planter bed is going to be with landscaping stones. Put the ends right next to each other to create a tight fit all the way around the bed area.
Stack the next row on top of the first, but set them off center from the row below. This way the rows will be staggered and seams won't line up. Continue to stack the stones until you reach the height you want. Make sure that it is at least 1 foot 2 inches tall.
Pour 2 inches of gravel in the bottom to aid in drainage.
Fill the remainder with rich soil. If you want, you can mix in 25 percent compost. There should be a total of at least 1 foot of soil, so if you built the planter a foot and two inches, you would need to fill the soil to the top. If you built it higher, you need to add at least 12 inches of dirt. Generally, however, the soil can be filled to at least 2 inches from the top. It should set a little below the walls so that water doesn't run over the sides. The plants can still be easily tended if the soil is not too low in the container.