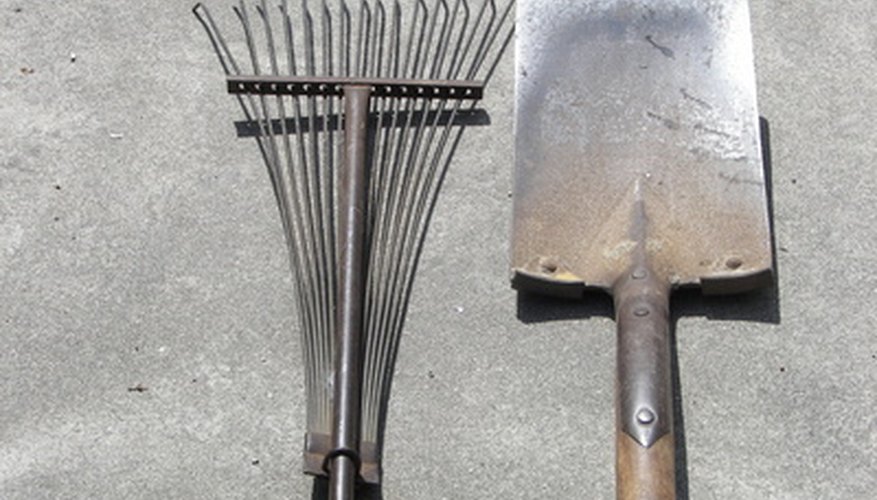 Some gardeners prefer the natural appearance of soil, mulch and flowers as a garden edge. The green and earth tones create a seamless transition between the garden area and lawn. Garden edging comes in a host of materials. Learning how to naturally edge flowerbeds provides a low-cost alternative to create definition in the landscape.
Schedule the natural edging of the flowerbeds before applying mulch in the spring to eliminate throwing soil on top of freshly laid mulch.
Outline the edge of the flowerbed with a garden hose. Consider creating either a straight line or gently rounded shape to allow for easier mowing. Curved gardens blend well in a landscape and mimic the irregular shapes found in nature.
Place the flat blade shovel edge just inside of the garden hose edge. Tilt the shovel to a 45-degree angle and step to dig into the turf to a 6-inch depth. Lift the grass clump and place it in the garden. If a flat blade shovel isn't available, use a round shovel to cut the landscaping trench.
Place the shovel blade right next to the corner of the last cut. Step down again and remove another clump. Form a continuous natural edge around the garden perimeter. The resulting edging trench produces a natural dividing line between the mulched flowerbed and the grass surface. This line allows for easy mowing without the use of edgers or line trimmers.
Shake the soil from each grass clump into the garden bed. Break up dirt clods and smooth the soil to blend the clumps into the rest of the garden. Remove all weeds. Use the grass in other parts of the yard to patch blank spots or discard in yard waste bags.
Apply a mulch layer about 2 to 4 inches thick along the entire surface of the garden. Pull the mulch forward into the edging trench to cover the soil. Do not fill the trench with mulch. A 1-inch mulch layer covers dirt, limits weeds, and retains the distinctive line of the natural edge.
Touch up the edge using the flat shovel as need to keep the line sharp. Natural trench edges require seasonal maintenance. Keep the edge weed free with regular weeding to discourage growth of weeds into the garden bed
Things You Will Need
Garden hose

Flat edging shovel

Round blade shovel

Rake

Mulch