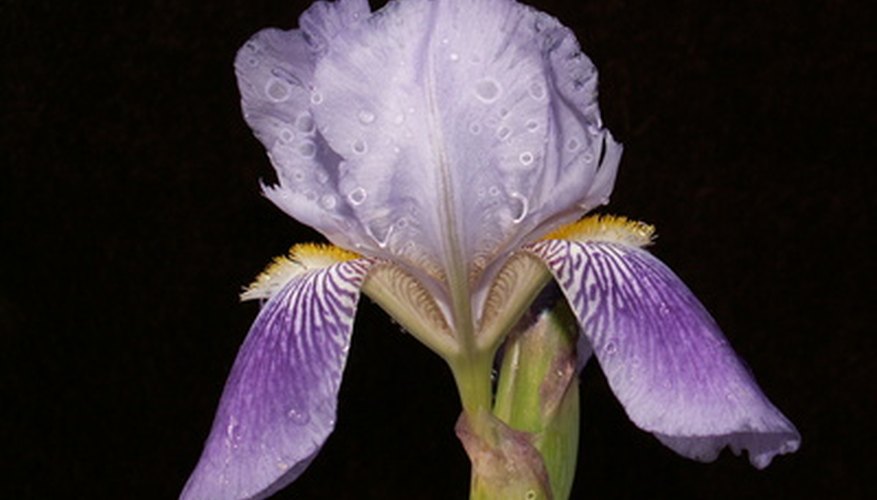 Gardeners with sunny flowerbeds often include at least one iris variety for its beautiful foliage and large, showy blossoms in the spring. Over 200 varieties of iris plants abound in a variety of colors, sizes and heights. Although bearded irises top most gardeners' lists in popularity, the beardless varieties are no less beautiful to many growers. As you consider adding irises to a growing area, look at the many varieties carefully to identify the iris flower you most desire in your flower garden.
Use a flower book with colorful images of irises to browse through the many different kinds of iris flowers. If you do not have a flower book available, visit the CalPhotos website to see a variety of different photographs of many different kinds of iris plants. Click on any photograph to see a larger variation of the same photo.
Look closely at the blossoms of an iris plant. An iris has three inner petals that stand upright in the center of the blossom called "standards" and three outer petals that fold down from the center called "falls." These falls are thick and fuzzy (resembling beards) in a bearded iris and smooth in a beardless iris. Iris blossoms come in almost any color you can imagine.
Examine the stems of the iris plant. Depending upon the iris variety, the stems can grow up to 4 feet tall or only 6 inches from the soil (for dwarf irises). Each iris stem rises cleanly up from the center of the plant to hold one blossom.
Notice the leaves of an iris plant. The iris has lush, deep green foliage, with the long, slender, pointed leaves growing up around each stem and blossom. The leaves typically grow attractively around the slightly taller blossoms, filling in a flowerbed with beautifully contrasting foliage.
Check the root system of an iris plant. A gardener must plant iris rhizomes just under the soil level for optimal blooming. The rhizomes are fibrous and fleshy, tending to spread and multiply energetically within a sunny growing area.