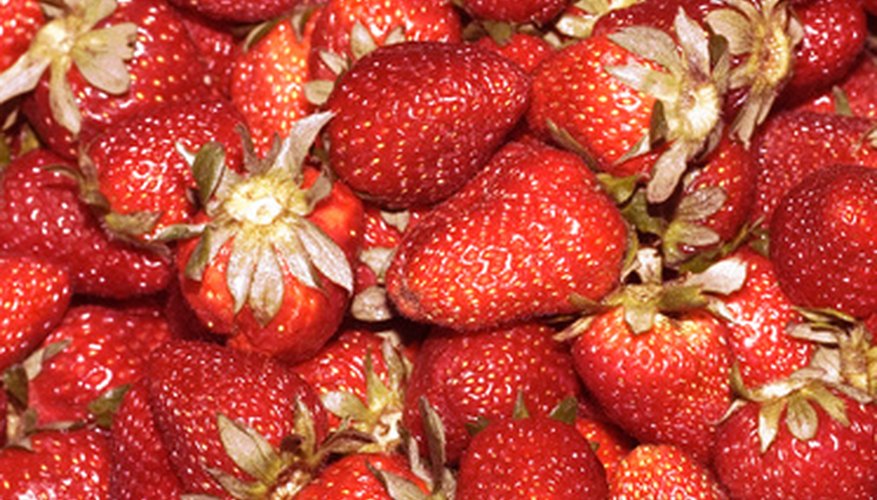 strawberry pile strawberries background image by alma_sacra from Fotolia.com
Sweet, juicy, vine-ripened strawberries are a sure sign that summer has arrived. Strawberries are an easy-to-grow fruit crop; they thrive when planted in rich, organic soil and in areas where they will receive at least six to eight hours of sun each day. Strawberry plants need 1 inch of water each week during the growing season. There are three classes of strawberry plants from which to choose; select the type that is best suited to your needs.
June Bearing
Strawberries that are classified as June bearing produce berries during a 14- to 21-day span in the spring. June bearing strawberries have runners, younger versions of the plant, and spread rapidly so they require extra space to expand. Varieties of June bearing strawberries are classified into mid-, late- or early-season groups.
Earliglow plants produce a medium-sized berry that is often sold in fruit markets. Their excellent flavor makes them ideal for using in jams and for freezing. Honeoye produces a high crop yield and has a large berry with a glossy finish and a slightly acidic flavor. Honeoye berries are best used in canning and preserving. The Mohawk has a large, red berry that is well flavored and makes a good dessert berry. Annapolis berries are mild-flavored, light red in color and rather soft. They are best served fresh.
Day Neutrals
Day neutral strawberry plants produce crops continually throughout the growing season. They have few runners and are ideal for container gardens and for small spaces.
Tri-star cultivars of the day neutral plant produce a small, glossy, red, full-flavored berry that is used for jams and freezing. The Hecker has a dark, orange-red berry that has a rich, sweet flavor. Tribute strawberries are larger than the tri-star berries, but they are not as flavorful and are best used for processing. Selva are large, dark-colored, firm, well-flavored berries that are best when eaten fresh. The Everest is a new variety that has large, bright-red berries and a sweet flavor. They are good for eating fresh or for making jams. The Seascape produces a large, firm, tasteful berry that is best eaten fresh.
Everbearing
The ever-bearing class of strawberries produces three crops of berries during the spring, summer and fall. Ever-bearing plants don't have many runners, grow well in containers and may be used as edging or ground cover.
Ever-bearing Fort Laramie plants yield a large, highly fragrant strawberry that is bright red in color. Berries are ideal for freezing or using in preserves. The hardy ogallala strawberry is plump and juicy. Ogallala are good berries for jams and jellies. Ozark beauty cultivars are long, wedge-shaped berries that have a rich flavor and are best used in canning and making preserves. Quinault strawberries have a light, sponge-like texture and are deep red in color. They are best eaten fresh but should not be frozen or made into preserves.