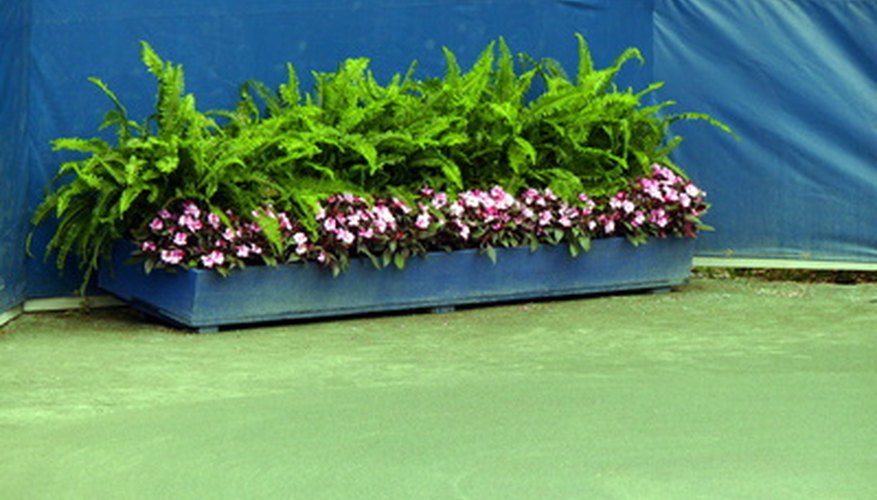 Large planter boxes can be made in a variety of sizes and shapes. Whether you have limited ground space or limited physical ability to work the ground, a large planter can be used on a deck, porch or patio, making growing any variety of plants possible. Once your box is constructed, you can put it wherever it will receive full sun. Then you'll be ready to add soil and plant flowers, vegetables and herbs into the planter.
Arrange four boards into a square shape with each board resting on a 1-inch width. Make the corners of your boards flush with the side of one board overlapping the end of another all the way around. Screw two screws 4 inches apart at each corner to join the boards together.
Place your sheet of plywood over the constructed square to form a box. Screw down through the plywood and into the boards every 6 inches to connect the box together.
Use a ½-inch drill bit to drill four to six holes spaced out along the plywood for drainage. Flip the planter box over, and set it on a flat surface.
Spread black landscaping plastic along the inside of the planter from one side to the other, covering the bottom and up the sides. If you need to use more than one sheet of plastic, be sure to overlap the sheets by 4 to 6 inches.
Staple through the plastic and into the boards and plywood every foot along the inside of the planter. Use scissors or a box cutter to trim the plastic back so it doesn't extend beyond the edges of the box.
Use your finger or a pencil to poke holes through the plastic matching the drilled holes in the plywood. Fill the planter with soil and plant as desired.