Image by Flickr.com, courtesy of Random Tree
The apple tree is a highly popular fruit-bearing tree. In the summer, an apple tree will be covered with small, green, oval-shaped leaves. If the tree has been pollinated, small, unripe apples will be hanging from its branches.
Identification
Depending on the variety, apple trees can grow between 9 and 40 feet tall. Typically an apple tree grows a wide, dense crown of branches, which are often twisted and knobby.
Apple Breeding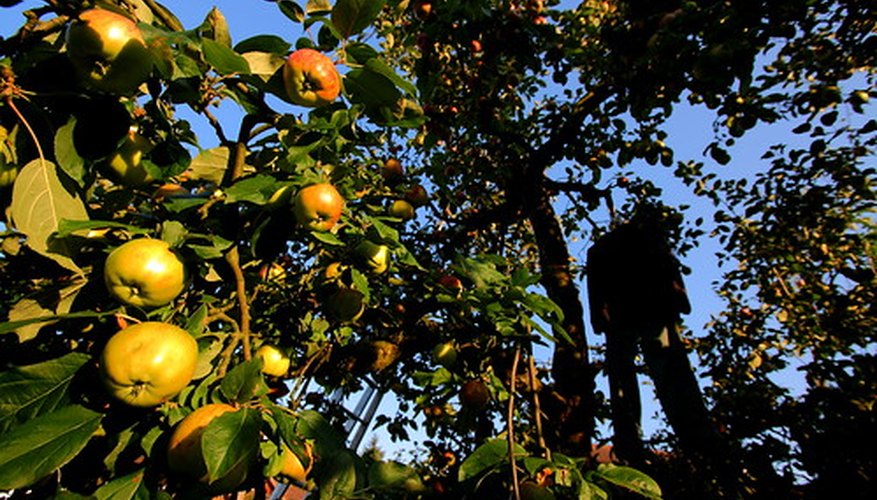 Image by Flickr.com, courtesy of Falk Lademann
Most apple trees are produced by grafting, or fusing, the stem of one variety of apple tree with the root-stock of another, hardier variety. Sometimes two or even three different varieties are grafted to a single root, resulting in a tree that produces more than one kind of apple.
Warning
Apple trees are vulnerable to a number of common tree infections and insects, such as mildew, aphid infestations, and apple scab. Check your trees frequently through the summer for problem signs, such as white powdery patches, yellow or sickly-looking leaves, and fruit with cracked or bumpy skin.
History
Apples and apple trees are common symbols in Western mythology and religion. In Christian tradition, the "Tree of Knowledge" in the Book of Genesis was an apple tree.
Fun Fact
According to Guinness World Records, the world's heaviest apple was grown in 2005 in an orchard in Hirosaki City, Japan, and weighed just over four pounds.
Resources