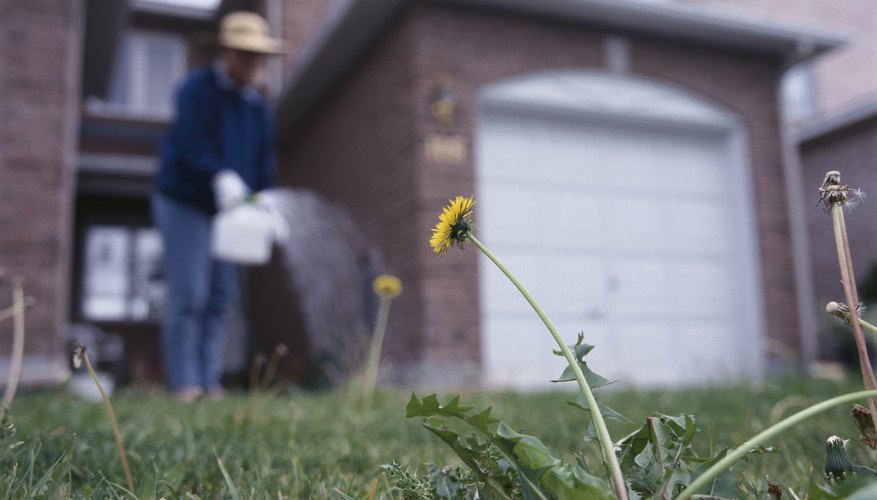 Hemera Technologies/Photos.com/Getty Images
Although more common in humid climates, plant fungus can be a problem in many climates for plants, vegetables, trees and other plants. Fungus can be hard to deal with. In many cases, the best cure is to prevent fungus by ensuring plant health and keeping water from collecting on leaves, branches, trunks and stems.
Cinnamon and Alcohol
First Rays LLC's website recommends using a solution made with cinnamon and alcohol for fungal infections on plants, including fungi that result in damping off of seedlings and deflasked seedlings. This is also said to be good for powdery mildew. To make the First Rays recipe, place 2 tbsp. of cinnamon in 1 pint of rubbing alcohol. Shake the mixture, and then let it stand overnight. The alcohol will turn brown. Filter the liquid to remove the solids and place it in a spray bottle.
Apple Cider Vinegar Fungicide
Golden Harvest Organics' website lists a diluted apple cider vinegar solution as a fungicide. To make this fungicide, dilute 3 tbsp. of 5 percent acidity apple cider vinegar in 1 gallon of water. Spray the mixture on infected plants every morning until the fungus subsides.
Baking Soda Fungicides
Brooklyn Botanic Garden recommends a foliar spray of baking soda and water for fungal infections. A baking soda recipe on Golden Harvest Organics' website suggests mixing 1 tbsp. baking soda, 2 1/2 tbsp. vegetable oil and 1/2 tsp. pure Castile soap in 1 gallon of water. Shake thoroughly and let it sit overnight before use.