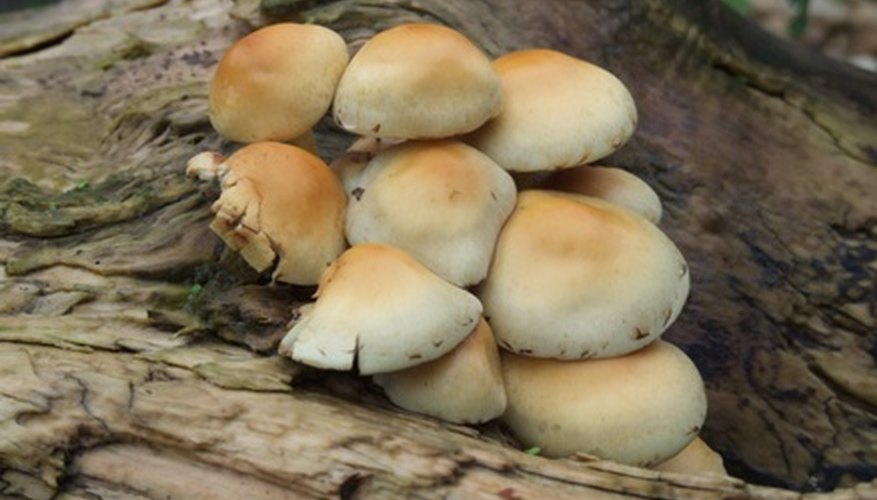 Commonly known as Ram's Head or Hen of the Woods, maitake mushrooms (Grifola frondosa) are cultivated for medicinal purposes as well as for cooking. Native to Eastern North America and Northeast Japan, these succulent, flavorful mushrooms are not easily available in grocery stores, but can be homegrown under the right conditions. Cultivating maitake mushrooms is not a simple procedure and it may take several attempts before you succeed, but the end result is worth the effort. You can grow maitake mushrooms both indoors and outdoors.
Measure and cut a hardwood log 5 to 6 inches wide and 3 feet long. Make sure the log is at least two months old. Soak the log in a tub of water for up to 2 hours.
Drill 20 to 30 holes in the hardwood log, spaced 3 to 5 inches apart. Make sure each hole measures 5/16 inches in width, with a depth of 1-and-1/2 inches.
Hammer mushroom spawn plugs into the holes to inoculate the logs. The best time to do this is in early fall so you can harvest the mushrooms the next year. Ensure each spawn reaches 1/4 inch deep.
Melt cheese wax in a pot by placing it over high fire. Cover each hole by dripping melted cheese wax with a turkey baster or a sterile spoon to protect the spawn and serve as a nutrient base.
Provide the ideal conditions for the spawn: consistent temperatures between 60 and 70 degrees F and humidity levels between 65 and 70 per cent. Place the logs indoors in a well-ventilated but dark room such as a cupboard, basement or garage, or outdoors over an area stacked with mulch. Mist the log frequently to assist mushroom production. Use a spray bottle on regular days and a soaker hose on days when there is no rain.
Harvest individual maitake mushrooms when they mature and turn a yellowish-brown color. Check that the cap is firm and upright as opposed to soft and drooping. Wear gloves while harvesting mushrooms.