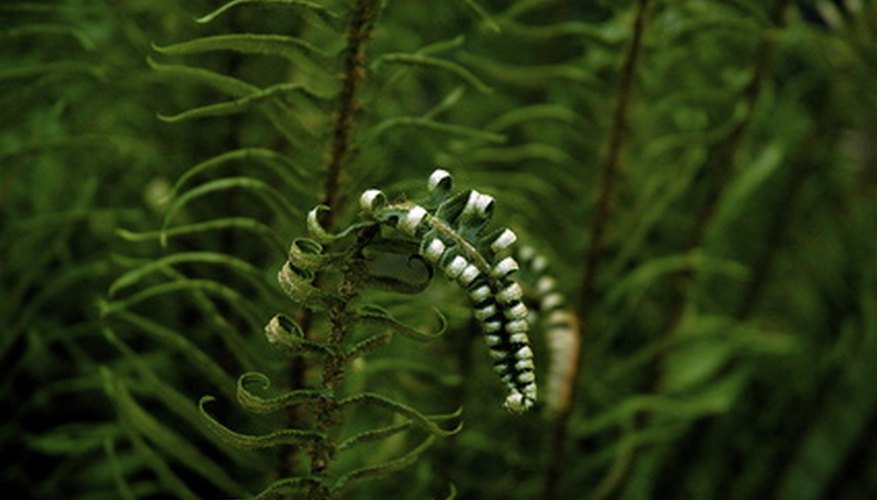 Sword ferns (Polystichum munitum) are native to North America. These evergreen perennials are desirable for their long, graceful, deep-green fronds and extremely hardy nature. In fact, they require virtually no care at all, according to Fine Gardening. In addition, these ferns will grow just fine in full shade, making them an excellent choice for those dark corners of a home garden or landscape.
Appearance
Sword ferns have long, leathery, dark green fronds that arch slightly toward the ground. These plants can grow up to 4 feet tall and more than 7 feet wide, according to Washington State University. Individual fronds usually average between 4 and 5 feet long. One plant may have as many as 100 fronds springing from its center.
Climate
Sword ferns are temperate climate plants. They prefer cool winters and mild summers, and will not grow well in subtropical or tropical climates. Polystichum munitum grows best in USDA plant hardiness zones 3 through 8, according to Washington State University.
Geography
The sword fern is a highly adaptable plant that can be found throughout the Pacific Northwest and beyond. This fern grows as low as sea level and as high as 7,000 feet, according to Calflora. They can most often be seen growing in the dim forests of Washington and Oregon, but they also have been found growing as far north as the Yukon and as far south as Southern California.
Culture
Plant sword ferns in cool, loamy soil in a location that receives partial or full shade. Hot, dry locations with direct sunlight will quickly scorch the fronds. While the sword fern prefers continually moist soil, it can survive drought conditions as long as it is well-shaded, according to Washington State University. The plant will even grow on nutrient-poor soil, although less vigorously.
Maintenance
Sword ferns are extremely hardy plants. They require very little care once established and do not even suffer from known insect pests, according to Washington State University. Sword ferns can be dug up and divided in the spring if the plant gets too wide.