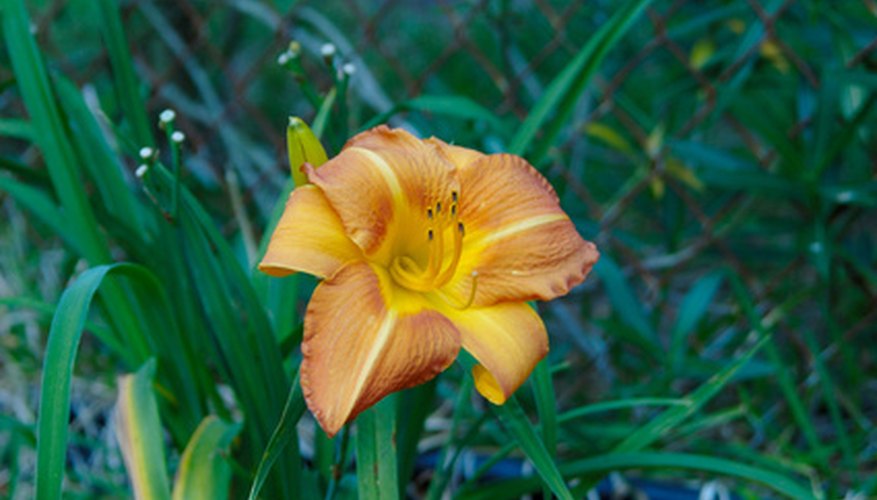 When you need to fill a sunny landscape spot with a full and bright spreading plant, day lilies fit the bill ideally. With their long, slender leaves that grow in a thick abundance and their tall blossoms that rise above the foliage in mid to late summer, day lilies add a casual appearance to a landscape. Many gardeners appreciate the ease with which day lilies will thrive and grow, needing little care and coaxing to bloom actively. After the growing season ends, perform simple fall care of day lilies to prepare them for the upcoming winter season.
Mix the fertilizer with water according to package recommendations for the size of your day lily plants. Pour the fertilizer carefully over the day lilies to fertilize them a final time in the autumn. If you live in Southern regions, fertilize the day lilies in mid- to late autumn when temperatures moderate. If you live in Northern regions, fertilize the day lilies approximately two weeks after the plants quit blossoming.
Trim back the day lily plants to just above the soil level with the pruning shears when the foliage begins to fade and yellow. Collect the foliage in the bucket and discard it.
Cover the day lilies with a 4-inch layer of straw or hay after the first frost of the season. If you mulch the day lilies too early, you may attract rodents to the mulching area.
Things You Will Need
Water-soluble fertilizer (13-13-13)

Pruning shears

Bucket

Straw or hay mulch