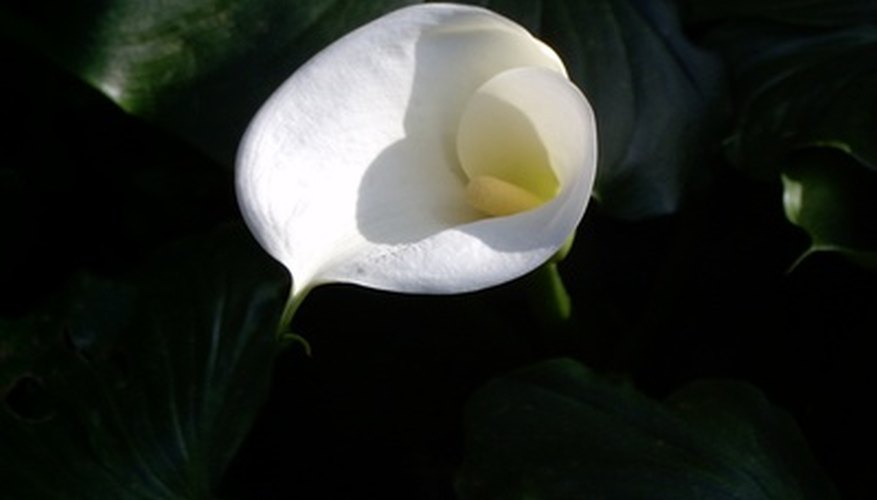 The calla lily, with its imperial blossom and rich, green foliage, makes an impressive summer blooming plant in a sunny flower garden. Calla lilies grow from bulbs and an advantage of growing these prolific bloomers is the way they will spread throughout a planting area if you allow it. If you grow calla lilies in a region where winter temperatures fall below 40 F, you must lift the calla lilies each autumn and store them until the next growing season. Transplant calla lilies during dormancy (late autumn or early spring).
Clip the foliage from the calla lilies down to the soil level with the pruning shears (if necessary) prior to removing them from the soil. Discard the stems and foliage after removing them.
Insert the shovel into the soil approximately 4 inches away from the center of the calla lily. Insert the blade of the shovel repeatedly to make a circle around the lily, and then angle the tip of the shovel beneath the bulb to remove it from the soil.
Prepare a new growing area for the calla lilies if you will be placing them immediately back into the soil. Loosen the soil down at least 6 inches with the garden spade. Add 2 inches of compost to the top of the soil, and mix this in with the garden spade thoroughly.
Dig holes 6 inches deep and 18 inches apart. If you are dividing the calla lilies first, remove the soil from around the bulbs, and then cut them apart with a sharp knife so that each portion of bulb contains at least one bud. Replant the calla lilies into the prepared holes, and cover them with soil.
Water the transplanted calla lilies generously to saturate the soil.