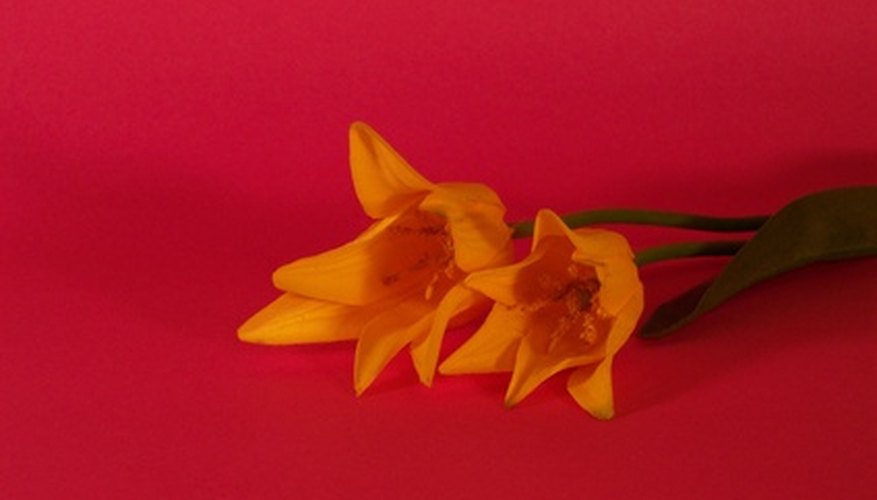 Flowers come in so many shapes and colors that they are a source of fascination and pleasure. Flowers are given to celebrate holidays and special events. They are used to decorate dinner tables and fireplace mantels. They are even used in scrapbooks and craft projects. If you have a few flowers you would like to continue to enjoy, you can dry them out. There are many methods to drying flowers, but air-drying is one of the easiest. When you air-dry your flowers, you must hang them upside down to retain their shape.
Remove the leaves from the stems of your cut flowers by plucking them off by hand.
Bunch together three or four flowers. Tie the stems together with twine.
Set up a piece of clothesline in a warm, dark place. This could be an attic or a closet. The length of the clothesline depends on the number of flowers you have to dry.
Flip your flower bunches upside down and hang them from your clothesline 6 inches apart with clothespins. If you don't have clothespins, you can wrap twine around the flower stems and then around the clothesline.
Wait two weeks and then check to see if your flowers are dry. If they are, you can remove them and cut the twine. If not, let them sit a few more days.
Things You Will Need
Twine

Clothesline

Clothespin
Tips
If you don't have a clothesline, you can use coat hangers instead.

You may want to spray your dried flowers with hairspray to help preserve them.