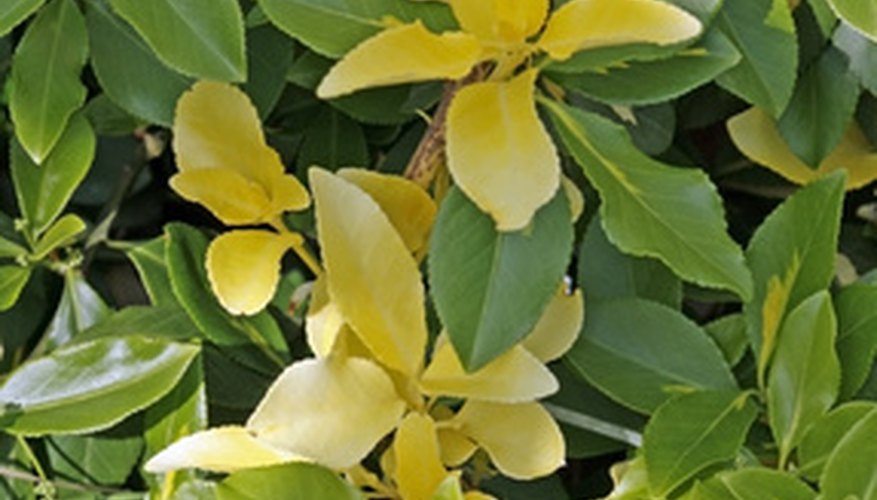 There are over 60 varieties of the euonymus, from evergreen shrubs, to vines, to goundcovers. The most common variety is the Euonymus alatus, or burning bush. This particular species is well-known for its fall color. The leaves turn from green to a bright beautiful red. They bloom a group of small yellowish-green flowers in the spring. All species of the euonymus prefer full sun to light shade and moist well drained soil. They are also susceptible to many different diseases.
Powdery Mildew
Powdery mildew is the most frequent and probably the hardest disease to eliminate in the euonymus shrub. It is caused by the fungus Oidium euonymi-japonici. The leaves develop a smooth gray growth that can be rubbed off like a powder. The fungus will cause the leaves to yellow and if infection is severe, the leaves will curl and scar. All infected branches should be cut off and destroyed. You should also remove any fallen leaf debris from the area. Fungicides will prevent new leaves from becoming infected, but not all will remove the powdery mildew on the leaves. It is best to alternate types of fungicides to decrease the chance of the disease redeveloping. It is also recommended to read all labels carefully.
Anthracnose
Anthracnose is caused by the fungus Colletotrichum. It causes a condition that develops in the late spring on the lower part of the shrub. It is most problematic during cool, wet springs. The symptoms include light brown spots on the leaves. This results in deformed leaves. It is recommended to remove and destroy any debris around the shrubs and to prune off infected areas. The more severe infections can be treated with fungicides like Ortho Garden Disease Control or Ferti-Lome Liquid Fungicide.
Crown gall (bacterium)
Crown gall is caused by a soil-inhabiting bacterium, Agrobacterium tumefaciens. The stems and roots of the shrub develop big galls or abnormal growths. These growths can kill a plant if infestation is severe. The bacterium is spread through the infested soil. The galls need to be removed with pruning shears. The shears should be cleaned before being used again on other plants or shrubs to prevent spread of the disease.
Cercospora Leaf Spot
This fungi Cercospora detructiva and C. euonymi cause odd shaped brown spots on the leaves. The spots vary in size and can join together to cover the whole leaf. The fungus makes tiny fruit-like growths on the spots. Leaf spots are typical and cleaning up around the shrub is recommended. They can be treated with fungicides but consult a local garden center and read all labels carefully before applying.