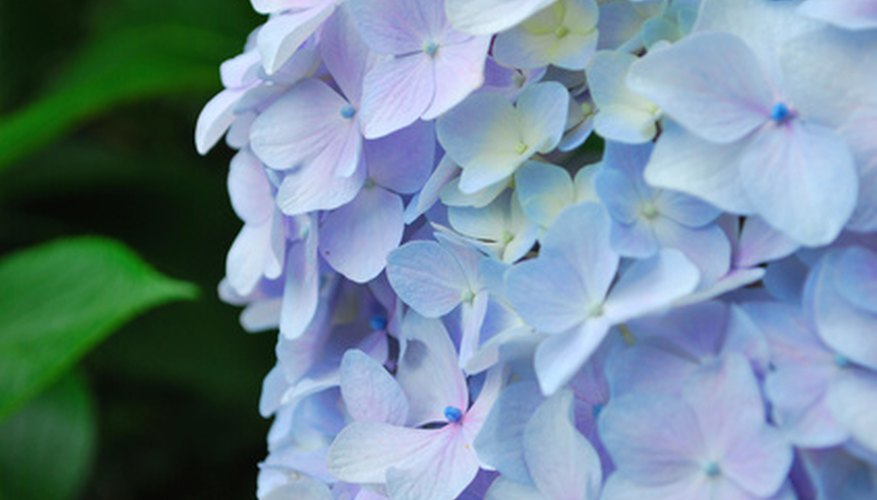 Most shrubs, most plants in general, prefer partial to full sun. Some will not flower without some sun. Some flowering shrubs, however, actually prefer shade. Although they will grow slowly and stay on the smaller side in shade, they still manage to flower. Knowledge of these plants can help you landscape the tough areas of your yard.
French Hydrangea
While most hydrangeas tolerate shade, French hydrangea (Hydrangea macrophylla) actually prefers continuous shade. It also does well with sun in the morning and shaded afternoons. This shrub grows in USDA Zones 6 to 10, which means it survives in regions where the temperatures stay above -10 degrees F. French hydrangea is a deciduous shrub that grows up to 12 feet in the sun and up to 6 feet in shade. It's the most popularly grown hydrangea, with ball-shaped clusters of flowers that bloom in late spring or early summer in shades of white, pink, blue or purple.
Bottlebrush Buckeye
Bottlebrush buckeye (Aesculus parviflora) is a deciduous shrub that blooms in spring with delicate white flowers held up to 12 inches above the bush on shoots. This shrub grows in USDA Zones 5 to 9, which means it survives in areas where the temperature stays above -20 degrees F. It eventually grows 5 to 10 feet tall and 10 to 15 feet white. It works great both as a specimen plant and in mass plantings.
Summersweet
Summersweet (Clethra alnifolia) is a deciduous shrub that grows only 3 to 8 feet tall, making it great for narrow spaces. Its upright growth habit and shade tolerance make it an attractive and distinctive shrub which blooms in late summer when many other shrubs have finished blooming. The flowers appear as fragrant, small, white spikes. This plant grows in USDA Zones 3 to 8, which means in grows well in most of the United States except the hottest regions of the south.
Cranberry Bush
Cranberry bush (Viburnum opulus) is a deciduous bush that grows 2 feet tall, 3 feet wide and prefers light to medium shade conditions. Its white spring flowers, cherry-red summer fruit and fall color make it an attractive bush throughout the growing season. It grows in USDA Zones 3 to 8, so like the summersweet it survives in all the United States except the hot, dry south.
Winterberry
Winterberry (Ilex verticillata) is a deciduous bush that produces small white flowers in the summer and bright red fruits in fall and winter. This plant grows 3 to 6 feet tall and is hardy down to USDA Zone 3. This means it will grow throughout the United States. It is renowned for its ability to withstand wet soils.