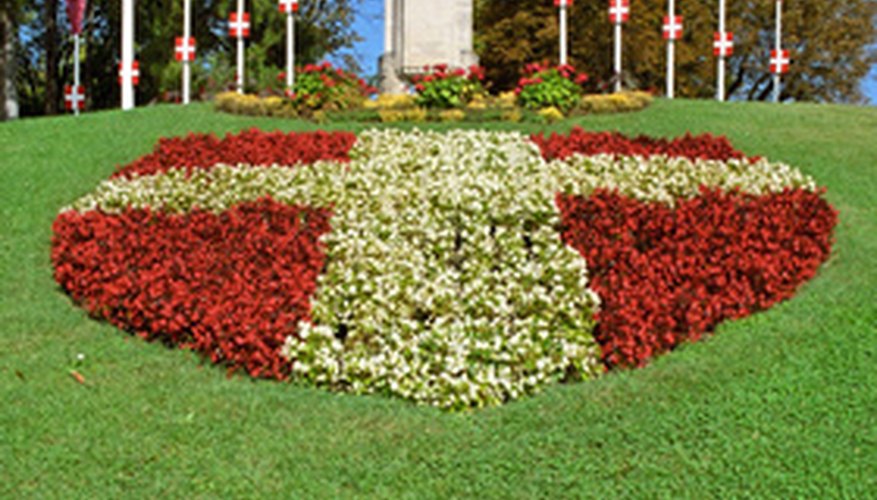 A memorial garden is a place for pleasant thoughts, happy times and peaceful contemplation. If you are commemorating a person, use flowers and plants he liked, or use flowers with his favorite colors. Four-footed friends don't have plant preferences unless you count catnip for furry felines. Perhaps a favorite toy or a plaque with the pet's name and likeness could be incorporated. A private memorial garden is not a place to grieve but to be comforted.
Locate the garden away from the hustle and bustle of the rest of the yard. Choose a spot under a shady tree or in a quiet corner. Provide privacy with hedges and tall growing flowers like butterfly bush, hollyhocks and cosmos. Install bamboo fencing or lattice wood to make two walls to enclose the memorial garden. Bamboo fencing is lightweight and easy to attach to chain link fencing by wiring.
Add a water feature with a fountain or waterfall. The sound is soothing and blocks out noise. Water features comes in all sizes, from a decorative pot with water gently trickling over the sides to three-tiered fountains.
Create an entry way with an arch, two potted plants or topiaries. Lay a path of stepping stones, bricks or pea gravel to a seating area. Edge the path with low-growing flowers like candytuft, dianthus or moss roses.
Place a bench where a pleasant view can be considered at the end of the path. If you don't have a view, add a focal point to the memorial garden with a piece of sculpture, urn or specimen plant. Plant flowers around the focal point.
Incorporate a memento of a hobby that the person enjoyed. It could be a golf club tucked in a corner or a tennis racket. If she loved horses, a bridle casually hung over the bench is appropriate.
Provide shade over the bench. If there aren't any trees, this is a good time to plant one. Until the tree gets big enough, plant grapevines to grow over an arbor. Other vines to use for shade that grow quickly are hops, honeysuckle, hyacinth bean and black-eyed Susan vine. Attach a tinkling wind chime to the top of arbor.
Engage your sense of smell by planting scented flowers like roses, oriental lilies and jasmine.
Place lights on the path so the memorial garden is accessible at night. Battery-operated lights hanging in the tree casts a peaceful glow.